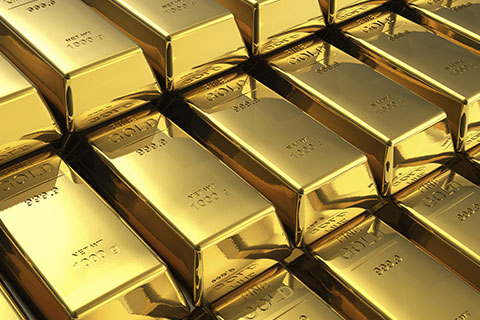 It's been over a fortnight since the government announced its demonetization drive in a bid to root out counterfeit money, choke terror financing and stop black money generation.
After an immediate initial gold buying rush on the eve of demonetization which lifted the precious metal's prices to 3-year highs, the prices have been on a downward trend. At the moment, fears abound that the Income Tax department will tighten its noose around the jewellers and dealers who allow money laundering through this route.
Buying gold from jewellers in cash without providing a permanent account number (PAN), backdated bills for high-value purchases and money launderers accepting old Rs 500 and Rs 1,000 currency notes for a hefty commission were reported. On November 10, the I-T department conducted raids in Delhi, Mumbai and other major Indian cities amid these reports on select jewellers and dealers.
The actions by the tax-man seem to have put pressure on domestic gold prices. Since rising to above Rs 31,700 per 10 grams on November 9, gold rate has dropped to less than Rs 29,500 in most major markets across the country.
A fall in global gold prices, with a sudden strengthening of the US dollar after the Trump victory, also muted gold returns.
Using the point-to-point return tool on Value Research, it can be seen that between November 8 (when PM Modi came on TV to announce the demonetization measures) to November 24, gold mutual funds have lost anywhere between 3.8% (Reliance Gold Savings Fund) to 7.2% (Kotak Gold Fund).
The long term outlook of the precious metal is hard to read due to the sheer number of factors impacting the precious metal.
Prathamesh Mallya, senior research Analyst - commodities & currencies, Angel Broking told Value Research: "Gold is likely to witness significant demand from those who wish to invest in a safe and secure option (in times of uncertainty). About 70-75 per cent of jewellers in the country are unorganised. But 25% of the organized jewellers contribute more than 80% of the business. However, the demonetization move will also lead the unorganised sector to get streamlined."
Mallya says the immediate demand outlook for the metal remains weak as cash runs dry, especially in key rural markets which are key consumers of gold. Gold demand is estimated to hit a seven-year low to remain in the range of 650-750 tonnes in 2016, according to the World Gold Council.
But "In the longer run, demand will rebound and benefit from the government's decision, once fresh high value currency notes start coming in and other restrictions are lifted, the pent up demand will drive up gold demand in a big way," the analyst said.
Many fund managers believe that a large portion of the gold demand in India is linked to compulsory buying like weddings, which should keep demand supported. Chirag Mehta, Senior Fund Manager - Alternative Investments, Quantum AMC, said: "If there is a marriage in the family, people will buy gold be it through cash, card or cheques. So, we do not see any impact on the demand scenario for gold in India due to demonetization. Melting old jewellery has been a trend for some years now, so even if some people do it, it would not hurt demand (that much)."
Agrees Sameep Kasbekar, research analyst, Emkay Global Financial Services. "Wedding jewellery demand has been impacted to an extent due to the demonetization of Rs 500/1000 currency notes; demand declined by about 60% since the announcement. However, pent up demand is likely to boost jewellery sales in the coming months," Kasbekar said.
Quantum's Mehta says that as regards global gold pricing scenario, US rates will determine future gold prices. After Trump's election, gold prices have been under pressure. At this point most of the negatives have been baked in, Mehta said.
It's not just gold mutual funds that are directly linked to gold's fortunes. There are some listed gold loan companies too which are on the portfolios of many equity schemes. Some analysts think gold loan lenders will be less hit due to demonetization drive, compared to real estate lenders.
Kotak Institutional Equities says: "We prefer gold lenders to real estate lenders, in the current environment. Strong gold prices, easy liquidity and the expected correction in real estate make gold loans a superior security at the current stage."
If gold lenders actually prevail, this could be good news for funds like DSP BlackRock Micro Cap Fund, Reliance Growth Fund and Birla Sun Life Frontline Equity Fund which have investments in Mannapuram Finance or Muthoot Finance according to their latest portfolios.
Interestingly, equity mutual fund schemes don't have any exposure to listed jewellery chains such as Gitanjali Gems, Tribhovandas Bhimji Zaveri, and PC Jeweller.