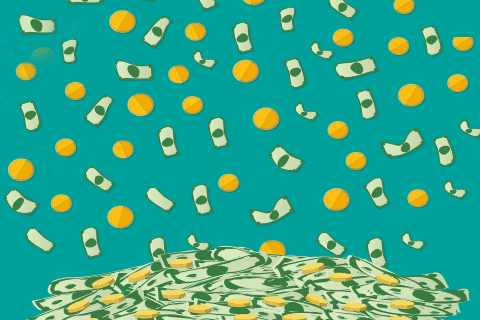 In the month of September this year, a total of Rs 27,338 of long-term assets were invested in Indian mutual funds. By long-term assets, I mean equity and hybrid funds. Even though these funds can be used for short-term investment, our readers would be well aware they are actually almost always used for longer term investments.
Rs 27,338 crore is an amazing amount of money to be flowing into mutual funds over just about 20 working days. In the entire 52-year history of mutual fund investing in India, there have been only six other months when more than Rs 20,000 crore has flow in. However, five of those six months have been in the last one and a half years. Clearly, equity fund investment in India has shifted into a different gear now. As those who have been investing in Indian mutual funds for a long time will understand, it's actually quite incredible that this level of investment is being achieved by gradual investments in older funds. In earlier times, a high level of investment meant only one thing--New Fund Offers (NFOs). Unless there were intensely marketed NFOs, with distributors getting massive intensives to push them, then investment used to be quite sluggish.
Times have changed. Or rather, investors have changed, helped along with some key regulatory changes. When SEBI cracked down on frivolous NFOs, correcting its earlier lax approach of allowing everything, mutual fund executives and distributors were sure that it would mean the death of the industry. Everyone was wedded to the idea that investors would invest only at Rs 10 NAV and only in new funds.
And yet, all those fears have proved groundless. A new class of investor has emerged, one who has a far truer understanding of investing and mutual funds. This new kind of investor is knowledgeable and self-driven. Internet-based research, digital transactions, social media interactions with other investors and with some AMCs' senior management and fund managers--all these have taken fund investing into a universe that was unimaginable ten or even five years ago.
The most heartening factor is that a vast percentage of investments in long-term assets now comes through SIPs. This is the single most transformative change that has happened. Investors who have SIPs going tend to not stop them when the markets decline. This happens partly because SIPs become a habit and partly because a lot of investors now understand that declining markets are good for SIPs. The true long-term bonanza for investors happens only when they keep investing through hell and high water.
These investors are learning that one should just choose a few good funds and keep investing. And, unlike earlier, this is not just theory and hope -- there's Rs 20,000 crore per month of evidence behind it!
Recently we talked to a number of investment managers to examine the question of whether equity prices have run too far up, given the actual financial performance of corporates. While investment managers gave a range of nuanced views, as investors, all of us must stay focussed on the basics.

As investors, we have all the tools we need to make the right choices. As a country and an economy, we are in a better position to sustain and increase growth than almost any economy in the world. The slew of reforms that the Modi Government has sustained since it came in will ensure that this pace is maintained. And the fund management industry in India has a choice plenty of good fund managers with excellent track records who are well equipped to leverage the conditions and generate returns for their customers. What more could investors ask for?