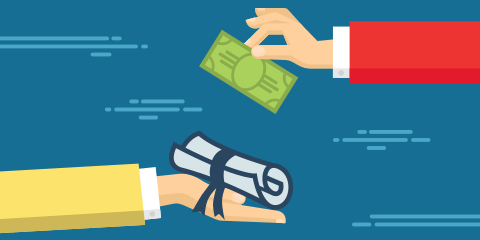 The level of pledging in listed equities signifies the financial health of companies and their promoters. Whether a business demands that promoters access more finance by leveraging their share in the company is a serious matter. The level of pledge can often also indicate problems that could crop ahead if promoters have already pledged near entire level of their shareholding.
Why is the level of pledge important?
There are two things the level of pledging can tell you about the company and its promoters.
First, it brings into question the quality of the underlying business. A high-quality business will rarely call upon its promoters to pledge their shares. Such businesses will generate sufficient cash to run operations and leave extra for other requirements like capital expenditure and such.
Second, a high level of pledge calls into question where operations will be financed from if bankers decline further assistance. When promoters have pledged their entire shareholdings and the assets of the company and its promoters have already been collateralised, bankers may decline to provide further access to funds.
There is another risk of high pledge. When banks sense they cannot recover their loans, they have resorted in the past to selling the pledged shares. In such instances, stock prices of the ill-companies take a nosedive leading to erosion of shareholder value.
High level of pledges.
A developing trend is the steadily increasing level of pledging. A recent Ambit Capital report highlights that the percentage of pledging as a percentage of total shareholding is now at its all-time highs (pledging data available since 2009, for BSE200). That's not all.
Even the value of the pledged shares estimated at $17 billion is at all-time highs. The graphics below highlight the level of pledged shares and the value of the shares pledged.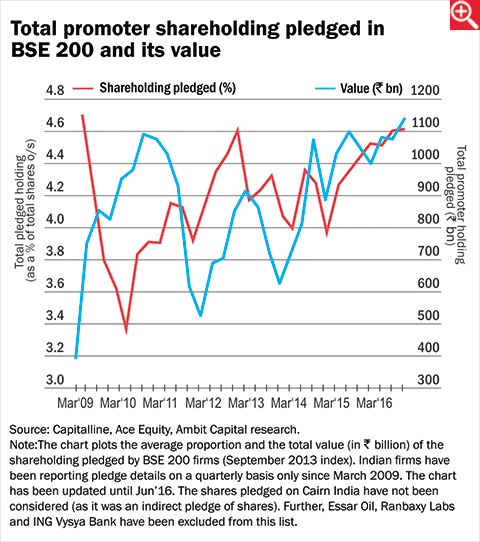 The graphic below shows 15 listed entities with alarming level of pledged shares across various industries. In a couple of companies, the entire promoter stake is pledged.