 Remember that ubiquitous dusty box that lies forgotten at the bottom of every building's staircase? One that we look at only if the lights go out or if we receive an outrageous bill? That ladies and gentlemen, is HPL's principal business - electricity meters. The company gets nearly half its revenue from its metering business and it is the market leader in this segment. Its principal customers are power utilities - which after decades of inefficiency, theft and debt are now the focus of a government cleanup. Its other revenue streams are all connected to electricity - switchgears, lighting and railway electrification.
The company has warehouses in 21 states and no less than 2400 dealers or distributors all over the country. As India electrifies, the company's established presence in this market holds out a promising future. A facet of this process is the shift towards LED lights which the company has positioned itself towards.
However, not all is well with HPL. The company made about 1,121 crores in revenues in FY 16 but just 36.62 crores in profits (about 3% of revenues). Revenue growth has been robust over the past 5 years at 14.55% but the bottom line has been flat. Its competitors are no small fry - L&T, Schneider Electric and Phillips and whether it will be able to hold its own against them is an open question. Last but not least, its humongous levels of working capital are a worry. It has 512 crores due from its debtors (mostly power utilities).
30% of the company is being sold in the IPO which is a fresh issue of shares (existing shareholders will have their ownership diluted). The company is raising about 389 crores (at the middle of the price band).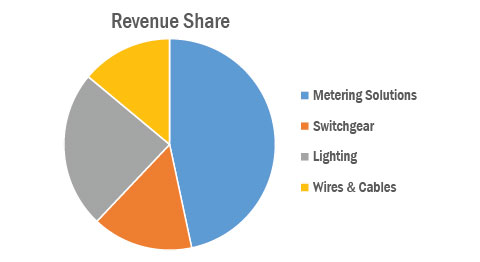 The company proposes to use 33% of the IPO proceeds to pay down debt, 46% to fund working capital and the balance for the company's general needs.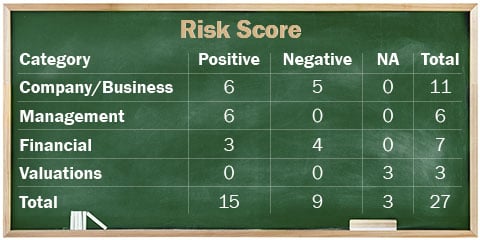 Company / Business
1. Is the company's earnings before tax more than Rs 50 cr in the last twelve months?
No, it was 48.39 crore for FY 16.
2. Will the company be able to scale up its business?
Yes, HPL has good growth potential. According to Frost and Sullivan, the metering segment (HPL's largest source of revenue) has a growth potential of 11%-12% over the next 5 years. Certain other segments such as lighting have double digit growth potential.
3. Does the company have recognizable brand/s, truly valued by its customers?
Yes, HPL has the highest market share in metering solutions and a significant presence in its other lines of business.
4. Does the company have high repeat customer usage?
Yes, 45.21% of revenues are derived from power utilities who are regular customers.

5. Does the company have a credible moat?
No. This is a highly commoditized business. Power utilities give contracts to lowest bidder.
6. Is the company sufficiently robust to major regulatory or geopolitical risks?
No, most of the company's manufacturing facilities are located at a single location (Haryana), exposing HPL to geographical risk especially considering recent political instability.
7. Is the business of the company immune from easy replication by new players?
Yes, the company has a 'pre-qualified' status with power companies including government owned utilities and agencies which is difficult for challengers to obtain.
8. Is the company's product able to withstand being easily substituted or outdated?
Yes, there is very little risk of substitution.
9. Are the customers of the company devoid of significant bargaining power?
No, power utilities companies which are the company's biggest customers have significant bargaining power.
10. Are the suppliers of the company devoid of significant bargaining power?
Yes. There is nothing in the company's raw material consumption to indicate otherwise.
11. Is the level of competition the company faces relatively low?
No, there are multiple domestic producers and strong competition from imports.

Management
1. Do any of the founders of the company still hold at least a 5 per cent stake in the company? Or do promoters totally hold more than 25 per cent stake in the company?
Yes, the promoters currently hold a 100% stake in HPL. After the stake sale, promoter group stake will come down to 69%.
2. Do the top three managers have more than 15 years of combined leadership at the company?
Yes, the promoter and chairman Mr Lalit Seth has over 40 years of experience in the industry. The average experience of senior management is over 20 years.
3. Is the management trustworthy? Is it transparent in disclosures in consistent with Sebi guidelines?
Yes, there is nothing in the prospectus or in the public domain that makes us believe otherwise.
4. Is the company free of litigation in court or with the regulator that casts doubts on the intention of the management?
Yes, however the company is facing a case filed in 2004 regarding use of the 'Havells' trademark. We don't think that this case casts doubts on the intention of the management vis-a-vis minority shareholders.
5. Is the company's accounting policy stable?
Yes, company has followed consistent accounting policies in its filings.
6. Is the company free of promoter pledging of its shares?
Yes, there is no pledging.
Financial
1. Did the company generate current and five-year average return on equity of more than 15 per cent and return on capital of more than 18 per cent?
No, its current ROE is 10.98% and ROCE is 14.34%. Its 5 year average ROE is 11.21% and ROCE is 15.09%.
2. Was the company's cash flow-positive during the previous year and at least four out of the last five years?
Yes, cash flow from operations is positive in the current year and in 4 out of last 5 years. It was cash flow negative in 2011-12 due to a huge investment in working capital.
3. Did the company increase its revenue by 10 per cent CAGR in the last five years?
Yes, revenue grew by 14.55% on average in the last 5 years.
4. Is the company's debt-to-equity ratio less than 1 or is its interest coverage ratio more than 2?
No, its debt-to-equity ratio is 1.63 and interest coverage ratio is 1.62.
5. Is the company free from reliance on huge working capital for day to day affairs?
No, it is a working capital intensive business. Debt recovery from power utilities has been an issue which has resulted in a working capital cycle of 150 days.
6. Can the company run its business without relying on external funding in the next three years?
Yes, the proceeds from current issue will help in bringing down debt to equity ratio to 1.25 from current 1.63. It will also satisfy working capital requirements of the business.
7. Have the company's short term borrowings remained stable or declined (not increased by greater than 15%)?
No, short term borrowings actually increased by average rate of 27% in last 5 years.
The Stock/Valuation
1. Does the stock offer operating earnings yield of more than 8 per cent on its enterprise value?
At the price band of 175-202, it offers an operating yield of about 5.7%.
2. Is the stock's price to earnings less than its peers?
At the price band of 175-202 the PE is about 35. By way comparison, peer Havells India has a PE of 42.37 (after excluding extraordinary gains from its earnings).
3. Is the stock's price to book value less than its peers?
At the price band of 175-202, Price to Book (PB) is about 2.45. In comparison, the PB of Havells India is 9.1.