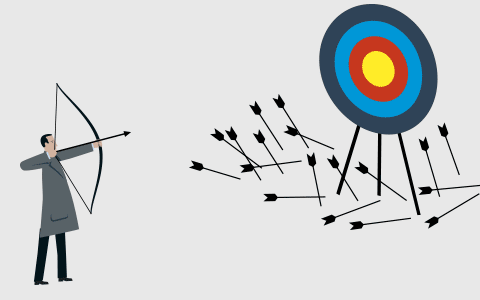 The current bull market is the third longest in history in terms of duration. The S&P 500 and Dow Jones indices just hit all-time highs. Not China, not oil, not Brexit, not negative interest rates, not deteriorating earnings - nothing has mattered in this seven-year-and-counting bull run as stocks have marched steadily higher, with nary a correction. The growing list of bears now includes quite a few of the who's who of the investment world, and yet the bull market runs full steam ahead. Is this mere optimism, or is it euphoria? It all depends on where we are in this market cycle (see the figure).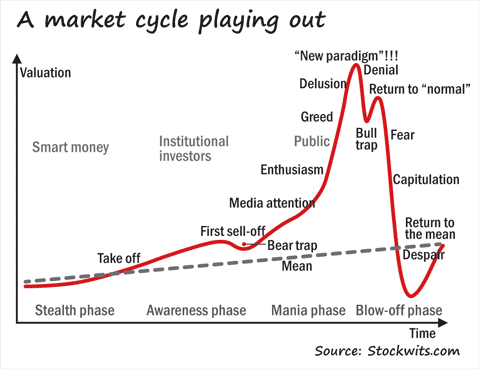 Earlier this year, the Royal Bank of Scotland issued a note to its clients to "sell everything," citing 2016 to be a cataclysmic year. Jim Rogers and George Soros have both come out in public warning of an impending crash. Late last year, activist investor Carl Icahn warned of danger ahead in the bond market. Since then, the markets have done nothing but prove them wrong. Consider the following quotes:
· "Stock prices have reached what looks like a permanently high plateau."
· "The masses long ago switched from stocks to investments having higher yields and more protection from inflation. Now the pension funds - the market's last hope - have won permission to quit stocks and bonds for real estate, futures, gold, and even diamonds. The death of equities looks like an almost permanent condition - reversible some day, but not soon."
The first article, quoting Irving Fisher's speech, appeared in The New York Times on October 16, 1929, at the beginning of what turned out to be a bear market of epic proportions, later dubbed the Great Depression. The second article appeared in Businessweek on August 13, 1979, at the start of a historic bull run in US equities, broken only temporarily by the 1987 crash.
Or consider this Wall Street Journal headline on July 17, 2015: "Let's Be Honest About Gold: It's a Pet Rock." Gold prices bottomed out about six months later and took off on a massive bull run this year.
Next is a Citigroup analyst's view on oil in May 2014, when oil was trading at over $100 a barrel: "Despite its doubters and haters, the shale revolution in oil and gas production is here to stay. In the second half of this decade, moreover, it is likely to spread globally." Oil started its slide in June 2014. The shale boom became a shale bust. About 1,20,000 (and counting) oil workers have got the pink slip, 59 companies have filed for bankruptcy and more debt defaults are looming this quarter.
Here is Goldman Sachs' take on oil just as it hit a five-year low, published on Bloomberg on September 17, 2015: "Goldman Sees 15 Years of Weak Crude as $20 U.S. Oil Looms." Well, we never did see $20 crude as prices quickly swung from the low of $26 to the mid-40s. Even the mighty Goldman Sachs got this one wrong!
What's the point?
Markets exist because different people have different opinions on price and value. Naturally, there is information overload. Experts sometimes get it right and sometimes get it wrong. A lay investor can be utterly confused if he pays attention to 'expert' opinions. So, it's best to ignore them as much as possible. Invest for the long term and relax.