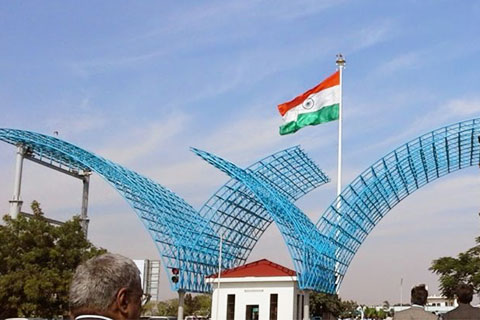 On August 18, shares of Welspun India were trading above ₹100 apiece. In just a matter of a few sessions, the Indian textile manufacturer and seller has lost 42% of value. The stock has crashed after U.S. retailer Target Corp. said it's terminating business over claims that the company is passing off cheaper cotton sheets as premium Egyptian cotton. Now, retail behemoth Walmart Stores is said to have started a probe.
On August 20, Welspun India told bourses: "We refer to a product specification issue with one client program of our subsidiary WGBL. We have initiated immediate actions to investigate the root cause. We are appointing an external auditor (one of the Big Four) to audit our supply systems and processes. This is an issue of highest priority for us and we will take all necessary steps to address it. We have an impeccable record of supplying quality products to our customers globally for over two decades. We reiterate our commitment to the highest standards of customer service and compliance."
After the Walmart news broke, bourses on August 24 sought clarification from Welspun India Ltd with respect to news.
Welspun India was an over ₹200 crore bet for domestic mutual funds (MFs) alone. As per Value Research data, 22 mutual fund schemes held 2,11,47,165 Welspun India shares as on July 31, 2016. Based on the then market prices, these shares were worth ₹216.45 crore. However, today, the entire holding is worth ₹125.40 crore, a sharp 42 per cent loss.
You can check which mutual funds holds Welspun India shares with our online tool, Who Owns What? Click here to check.
Something similar happened with mutual funds when the Nestle India Maggi episode blew in their faces. Some mutual funds also had sizable combined exposure to United Spirits.
An analysis of Welpsun India holding data for mutual funds shows that the company was a big hit among mid-cap equity funds. The top Welspun India stock holder among MFs was Reliance Growth Fund, which held 96,76,030 shares worth a little over ₹99 crore. However, for a fund whose size is over ₹5,632 crore, Welspun India shares were a relatively small bet (1.76 per cent).
The other notable MF holders of Welspun India shares, as on July 31, 2016, were ICICI Prudential Midcap Fund (28,58,918 shares), HSBC Midcap Equity Fund (17,67,040 shares), HSBC India Opportunities Fund (14,00,000 shares), BNP Paribas Midcap Fund (12,15,000 shares), L&T India Value Fund (9,94,600 shares). In terms of proportion of total assets, HSBC Midcap Fund had the highest exposure (4.30 per cent).
AMC-wise, Welspun India shares seem to be most popular with HSBC (7 schemes hold 44,39,613 shares). Edelweiss AMC has 4 schemes that bet on this stock (Edelweiss Absolute Return Fund, Edelweiss Diversified Growth Equity Top 100 Fund, Edelweiss Prudent Advantage Fund and Edelweiss ELSS Fund), as per data. BNP Paribas AMC has exposure to the stock in 3 schemes (BNP Paribas Midcap Fund, BNP Paribas Long Term Equity Fund and BNP Paribas Dividend Yield Fund). Reliance AMC has the holding in 2 schemes:Reliance Growth Fund and R*Shares Dividend Opportunities ETF. Goldman Sachs also has 2 schemes that bet on Welspun India - Goldman Sachs CNX 500 Fund and Goldman Sachs India Equity Fund. The former holds Welspun by virtue of it being in the CNX 500 Index given the fund's mandate to replicate the index.
However, the diversified nature of mutual funds' holdings is likely to limit the Welspun impact.