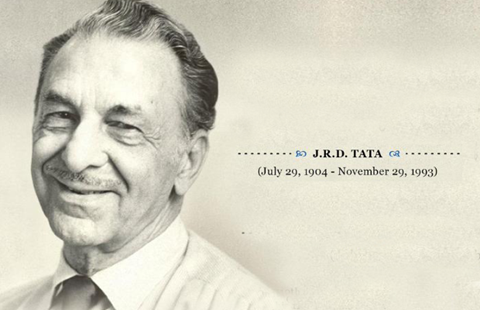 I recently started reading The TCS Story & Beyond by ex-CEO Ramadorai. The early days of TCS coincided with the license raj regime which made life extremely difficult for them. The government pretty much did everything it could to put a spoke on the wheels of commerce. In that backdrop, here is a letter written by JRD Tata to one of the top level bureaucrats P.N. Haksar, then principal secretary to Prime Minister Indira Gandhi. The letter was a response to a snarky communique from Haksar wishing Tata a happy 80th birthday and asking him to 'reflect constructively and creatively on the state of the country'. I really enjoyed the response, coming from a businessman who stood as a beacon for capitalism in the dark ages of a socialist India.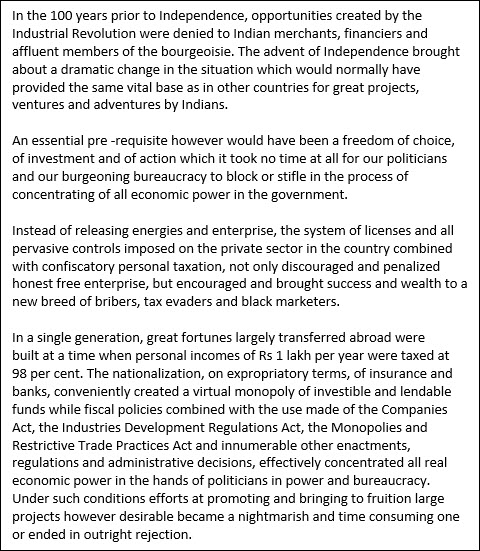 98% taxation of personal incomes above 1 lakh, a maze of bureaucracies to navigate in order to get permission to make new capital investments, produce more than the allocated 'quota', a "Monopolies and Restrictive Trade Practices Act" designed to punish large corporations for being successful enough to become large, a hostility to private enterprise and profits... it is a wonder that any business house persisted through this period in India!
While we enjoy the fruits of free enterprise and take for granted that capitalism is the only economic model in human history known to have created massive wealth for the populace, let us not forget that a slip back towards protectionism, towards trade restrictions, towards compulsive licensing and government intervention is all it would take to erase all this newfound wealth and take us back to 1970s India. The Chinese learned this lesson during the Cultural Revolution, Kirchner's Argentina learned this lessons over the last decade, Chavez's Venezuela is learning this lesson today. As investors, we should never forget the lessons of history.
Parting thought:
"The democracy will cease to exist when you take away from those who are willing to work and give to those who would not." - Thomas Jefferson, founding father of the United States of America.