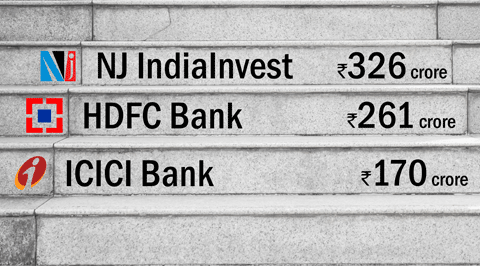 Mutual funds paid 497 large distributors ₹3647.63 crore by way of gross commissions in 2015-16, a year-on-year drop of 23 per cent from the preceding financial year. This is evident from the data compiled from industry body AMFI from all the AMCs. SEBI had, in 2011 directed individual asset management companies (AMCs) to disclose the total commission and expenses paid each year to their large distributors.
All distributors who receive an aggregate commission of more than ₹1 crore from all AMCs or get a fee of ₹50 lakh from single fund house or operate from more than 20 locations, are required to make such disclosures. SEBI in 2012 had also asked fund houses to make additional disclosures regarding distributor-wise gross inflows, net inflows, average assets under management and the ratio of AUM to gross inflows on their website along with commission disclosures. AMFI has been asked to disclose the consolidated information on its website.
Mutual funds had paid ₹4744.57 crore to 519 distributors in FY15, an over 80 per cent year on year jump compared to ₹2602.67 crore in FY14 to 396 distributors.But this year has seen a dip in those payouts. One reason could be the continued migration of institutional investors to Direct plans.
NJ IndiaInvest Pvt Ltd emerged as the biggest distributor in terms of commission in FY16, earning ₹326.10 crore. It toppled previous financial year's biggest earner HDFC Bank (₹261.03 crore in FY16 vs ₹328.98 crore in FY15).
In FY16, among the biggest earners are ICICI Bank Limited (₹169.72 crore), Kotak Mahindra Bank Limited (₹166.35 crore), Darshan Services Private Limited (₹160.40 crore), IIFL Wealth Management Limited (₹143.52 crore), Citibank N.A (₹140.73 crore), Axis Bank Limited (₹140.26 crore), ICICI Securities Limited (₹111.37 crore), SPA Capital Services Limited (₹106.13 crore), Hongkong & Shanghai Banking Corporation Ltd. (₹92.93 crore), Standard Chartered Bank (₹86.20 crore), State Bank of India (₹62.12 crore), Prudent Corporate Advisory Services Ltd (₹59.97 crore) and JM Financial Services Limited (₹53.18 crore).
Among individual names, R K Agrawal (₹5.25 crore), Manjula S (₹4.5 crore), Gaurav Ganpule (₹4.14 crore), Roopa Venkatkrishnan (₹3.87 crore), Mukesh R Parikh (₹3.72 crore), Ashish Modani (₹3.38 crore), Rajbir Singh (₹2.85 crore), Paresh Shantilal Kariya (₹2.72 crore), Rakesh Pasricha (₹2.68 crore) and Sadashiv Arvind Phene (₹2.65 crore) are the ones who have earned above ₹2.5 crore in yearly commission, AMFI data for FY16 shows.
Individual data shared by AMCs (separately on their respective websites) show that HDFC MF had paid commissions (and expenses) worth ₹585.53 crore in FY16. ICICI Pru MF paid ₹476.15 crore, UTI MF ₹106.69 crore, Tata MF ₹88.30 crore, Franklin Templeton MF ₹305.35 crore, SBI MF ₹219.64 crore, among others. From October, Sebi has also asked MF houses to disclose to investors the commissions paid to their distributors including payouts in the form of gifts, trips and sponsorships in the consolidated account statements.