Ravi Gopalakrishnan, Fund Manager, Canara Robeco Emerging Equities, says the fund's focus on investing in good businesses with a clean balance sheet has contributed to its superior performance.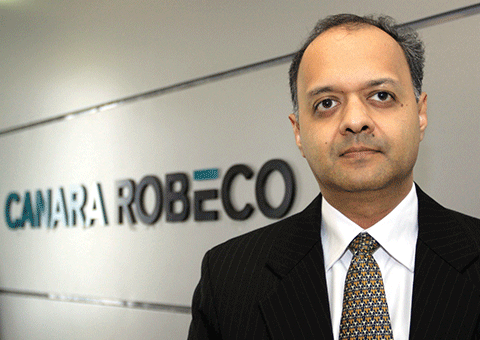 What is your investment universe?
Canara Robeco Emerging Equities predominantly invests (minimum 65%) in mid & small cap companies. The fund defines mid & small cap companies as the companies which fall in the range of 151st to 500th ranked on the basis of market capitalization. The fund seeks to identify those companies which have the potential to become leaders of tomorrow in their respective sectors. In addition the fund may take a exposure (upto 35%) to select large cap companies if there exists an attractive investment opportunity.
What are the essential attributes for the stocks to be in your portfolio?
Canara Robeco Emerging Equities follows a bottom up stock picking approach to identify the high growth potential companies with a good balance sheet and invest therein.
The scheme endeavours to identify & invest in companies using a framework of Business-Management-Valuation (BMV): Business, High growth potential, Market leadership via some MOAT
Management: Management track record, Corporate Governance
Valuation: Potential Intrinsic Value, Healthy Financials
What kind of stocks never enters your portfolio?
We aim to invest in fundamentally strong businesses. Thus we usually refrain from investing in highly leveraged companies, companies with a questionable management record on governance or companies solely dependent on outcome of events to drive growth. There could always be some exceptions where the company has demonstrated its willingness and the road map to a course correction.
Anything else you would like to add about the fund?
The investment process of Canara Robeco Emerging Equities rests on the following pillars:
Careful Bottom up Stock Selection with a view to select Quality Stocks
As mid-cap companies are more sensitive towards different macroeconomic scenarios, the performance of these companies can be very volatile. Thus we have a team of research analysts analyzing the fundamental attributes, historic business performance, recent developments in operating environment & future expectations. Only once a strong investment case is established, will a company be considered to be taken into the portfolio.
Diversified Portfolio Construct
Considering that business models of mid cap companies are typically volatile in terms of its operating environment and are in many cases not proven over a business cycle, the portfolio aims to reduce the volatility through adequate diversification across companies. Also in some cases, these companies are owner driven and not having a clear succession planning; it helps to reduce the risks through diversification.
What will you attribute the relatively superior performance of your fund to in recent years?
Fund's superior performance can be witnessed by its upside and downside capture ratio. Over a 3 year period, whenever the benchmark fell, the scheme on average only captured ~78%* of this decrease. On the other hand, it was able to benefit from the upside*: in the past 1 year, the scheme captured ~133% of any increase in the benchmark#. This superior performance could be attributed to the portfolio construct of Canara Robeco Emerging Equities fund which incorporates the BMV approach to stock selection and adequate diversification has helped the fund avoid taking excessive risks. Also considering the economic environment in recent years, the focus has been to invest in good businesses with a clean balance sheet. Good businesses offer economy led growth and operating leverage benefits while the good balance sheets avoid the issues associated with financial leverage.
Is there any tactical miss you regret (for instance, not owning a stock or not owning enough of it)?
There have been some opportunities which were missed, at times not owning enough or selling out early or owning for too long. However, these are experiences with benefit of hindsight and hence not really regrets but learnings of fund management.
Please click here to read the analysis of this fund.