The business world has been deluged with news of China's faltering economic growth, its rapidly declining forex reserves and the slowdown that has stalled global growth. Yet India chugs along. India has already overtaken China as the fastest growing major economy in the world and its debt is still manageable compared to what is seen in its eastern neighbour. Here are four strengths that India has on its side that set it apart from other emerging economies.
A resiliently high GDP growth
That the Indian economy is expected to clock in a growth rate of 7.3 per cent in FY16 caught many by surprise. This is because of the lack of fresh investments and swathes of the economy that is still lying in shambles. That's not the best part yet. According to the finance minister, Arun Jaitley, GDP growth should hit 7.6 per cent this fiscal. Chart 1 shows how GDP growth has moved in the last couple of years.

The latest Economic Survey projects the economy to report a GDP growth of 7-7.75 per cent in FY17. What is expected to fuel this growth is higher consumption spending, albeit based on normal monsoons this year. The survey goes a step ahead and paints India's medium-term potential at 8-10 per cent. The International Monetary Fund (IMF) has projected a growth rate of 7.3 per cent for this year and 7.5 per cent for the next. The main risks to the nation's projected growth are international shocks and weak corporate and bank balance sheets.
Falling fiscal deficit
Fiscal deficit has been a headache for the country in the last couple of years, peaking at 6.5 per cent in FY10. That was a time when some international credit-rating companies threatened to downgrade India's sovereign rating to junk status based on a combination of anaemic economic growth and widening fiscal deficit.
Those days have passed. The fiscal deficit for FY16 is estimated at 3.9 per cent. The finance minister is targeting a fiscal deficit of 3.5 per cent in the following financial. Chart 2 shows how fiscal deficit expanded and then narrowed in the past couple of years.

Cooling inflation
Inflation, it is said, can make or break governments. Inflation has been a headache for successive governments in India for some time now. The primary culprit behind India's high inflation in recent months has been high food inflation. Food inflation hit a high of 6.7 per cent in January 2016. The February number for food inflation cooled down to 6.3 per cent, giving some breather to the government. Whether this is a one-off event or a trend only time will tell.
What will help lower food inflation is increasing food supply, a higher crop production that will depend on normal monsoons and increasing buffer stocks. The IMF sees inflation at Reserve Bank of India's target for the consumer price inflation at 5 per cent by March 2017. Chart 3 shows how inflation has cooled down after heating up for most of the second half of the last year.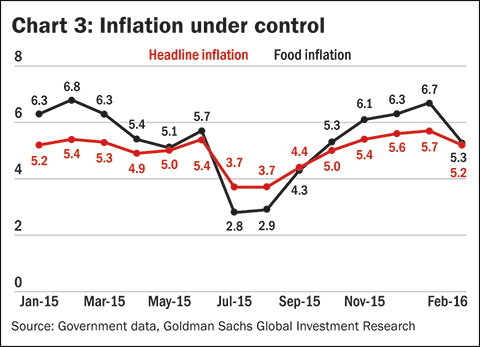 Strengthening forex reserves
India's forex reserves have gained handsomely from lows of $199 billion in FY07 to $346 billion in February 2016. This was during a period of global volatility, which often threatens to drive capital away from emerging economies. The forex reserves are down from $351.83 billion in the week of February 12, 2016. The hit was on account of a strengthening dollar and the Reserve Bank of India's moves to arrest the fall of the rupee. On the positive side, strengthening in the value of other currencies (excluding the US dollar) helped soften the blow from outflows. Chart 4 shows how the country's forex reserves have moved in the past couple of years.