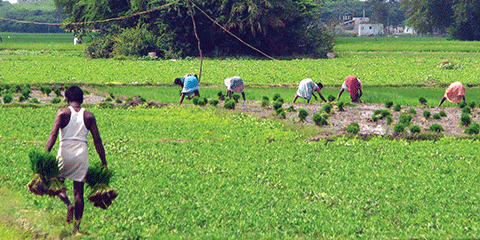 I am writing this column in the middle of February 2016. Earlier this month, the Central Statistics Office (CSO) of the Ministry of Statistics and Programme Implementation released the gross-domestic-product (GDP) growth projections for the current financial year.
The CSO expects the overall Indian economy to grow by 7.6 per cent during the course of this year. Much has been written about why this number seems unbelievable in light of high-speed economic indicators from two-wheeler sales to lack of corporate profit growth; to falling exports, slow-growth of railway freight and electricity consumption; and so on.
But what hasn't been written about enough is the slow growth in agriculture (actually agriculture, forestry and fishing) for the second year in a row. In 2015-2016, agriculture is expected to grow by 1.1 per cent. This is an improvement over 2014-2015, when agriculture contracted by 0.2 per cent. A simple explanation for the low growth in agriculture lies in two bad monsoons, when the rainfall was significantly lower than the long-period average.
As per the latest GDP projections, agriculture forms only around 15.3 per cent of the overall economy. This essentially means that the overall economy can grow at a fast pace even without agriculture not contributing significantly to it. In fact, it can even grow if the sector contracts (as it did in the last financial year).
But it needs to be pointed out here that around half of country's population is dependent on agriculture. And if the sector does not grow or grows slowly, it impacts a large section of the population. This can't possibly be a good thing.
As economist Ashok Gulati wrote in a column in The Financial Express, "The first two years of the NDA government will give an average agri GDP growth of just 0.45 per cent, way below even the population growth rate of about 1.3 to 1.4 per cent. This, in effect, means that per capita income in agriculture has declined in the first two years of the Modi government."
If the overall economy is expected to grow at 7.6 per cent and agriculture is growing at 1.1 per cent and half of the country's population is dependent on agriculture for a living, it only means that the income inequality is increasing, with greater gains going to the non-agriculture section of the population. And this is worrying, given the fact that parts of the country are already inflicted with naxalism.
Up until now, the government's way of dealing with low growth in agriculture and poverty has been giving out doles. The food-subsidy bill of the government for the current financial year has been budgeted at ₹1,24,419 crore. As per NSSO 2011, 46.7 per cent of the food subsidies don't reach those whom they are meant for and find their way into the open market. The government also runs the Mahatma Gandhi National Rural Employment Guarantee Scheme. The assets created under this scheme are so poor in quality that this scheme also is more of a dole.
No major attempts have been made by any government (the current Modi government or the Manmohan Singh government before it) to plug leakages in the 'dole' system. Further, it needs to be pointed out here that as per the Agriculture Census 2010-11, small and marginal holdings of less than two hectares account for 85 per cent of the total operational holdings and 44 per cent of the total operated area. This could have only got worse since 2010-11.What this means is that there are many more people working in agriculture than are possibly required. People need to be moved away from agriculture. This is only possible if many semi-skilled and unskilled jobs are created at a very fast pace. And that doesn't seem to be happening. In fact, forget the government doing something about it; no one is even talking about it.
This is not an issue which can be tackled with an allocation of a few thousand crores in the budget. This is a structural issue with the economy and needs some solid thinking, which is currently missing. The surprising thing is that the NITI Aayog was set up precisely to tackle these kinds of issues.
Further, any sustainable economic growth happens when people have jobs which pay. As Satyajit Das writes in The Age of Stagnation, "In 1955, showing off a new, automatically operated plant, a Ford company executive asked United Automobile Workers [a trade union] head Walter Reuther 'How are you going to collect union dues from [the robots]?' Reuther countered, 'And how are you going to get them to buy Fords?'"
The point here is that for any kind of consumption growth to happen there has to be an income, and for income there need to be jobs. Consumption growth is a very important constituent of sustainable economic growth as demand for things leads to companies expanding, creating new jobs and better income opportunities. All this creates further consumer demand and in turn, economic growth.
Another point that needs to be made is that if the low growth in agriculture continues for another year or two, then the government is likely to get into a more dole-oriented mode, as the 2019 Lok Sabha elections approach. Before the 2009 Lok Sabha elections were due, the Congress-led United Progressive Alliance government announced an agriculture-loan-waiver scheme. In their bid to win elections, any political party in power is more than likely to make such an announcement. And this is indeed very worrying.
Vivek Kaul is the author of the Easy Money trilogy. He can be reached at [email protected]
This column appeared in the March 2016 Issue of Wealth Insight.