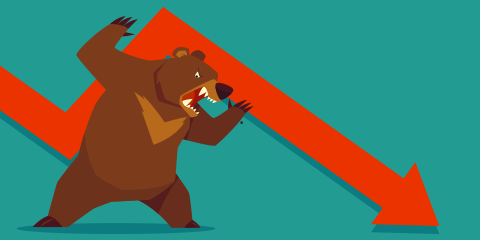 The recent market rout has created panic among investors. Many have seen their investments fall like a stone. No sector has been immune to the fall. Many stocks are now trading around their 52-week lows. Close to three out of ten have hit this psychological level.
Hitting 52-week lows
The first graphic below shows sector-wise the number of stocks that have hit their 52-week lows. From the graphic, it becomes clear that the financial sector has seen the maximum number of stocks hitting 52-week lows. There are twice as many financial stocks hitting 52-week lows as compared to the immediately following sector. Construction saw the second-highest number of stocks hitting 52-week lows. A slowdown in sales and excess supply conditions have meant falling realisations for the sector. Metals and services saw the third highest number of stocks hitting lows. Crashing global metal prices and a slowing domestic economy have eroded shareholder wealth.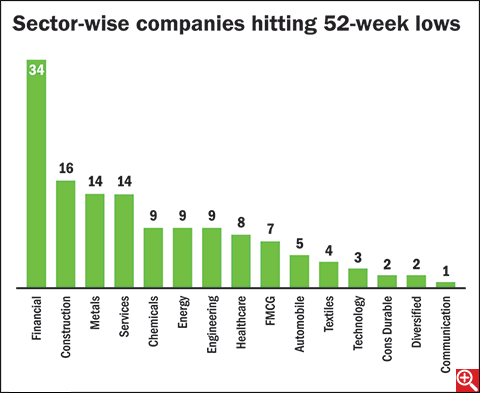 Traditional defensives played their part, with only two or three stocks in technology and consumer durables hitting lows. Other defensives like healthcare and FMCG saw a slightly higher number of stocks hitting lows, but this is more stock specific rather than due to sector dynamics.
How much did sectors fall?
Then there is also the angle of how much each sector fell. For this purpose, we looked at the fall from their respective 52-week highs. Here are the results.
From the second graphic, we can see that metals have taken the maximum hit, with stocks, on average, down 45 per cent from their 52-week highs. With China slowing down, the fortunes of metal companies do not look about to turn for the better anytime soon.
Financial stocks are the second worst hit, with an average decline of 39 per cent from their one-year highs. Recent news reports point out that public-sector banks have set aside seven times the amount they have received from the government for capital infusion since FY14 as provisions for bad loans.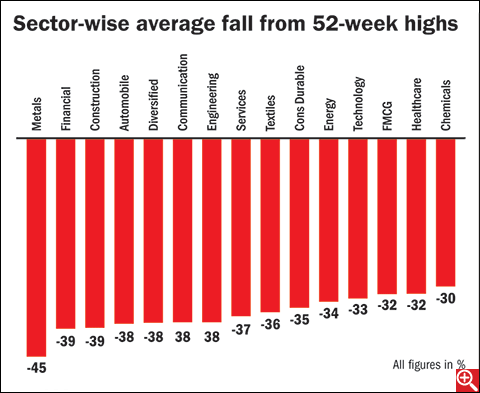 Construction has lost the third-most, with an average fall of 39 per cent. The collapse of the residential real-estate market with demand drying up and inventory remaining high has resulted in this. Also hurting real-estate developers is the reality that they can't get as easy access to finance as they could earlier.
Even traditional defensives - technology, FMCG and healthcare - have not escaped the heat, burning up a third of their investors' yearly highs.