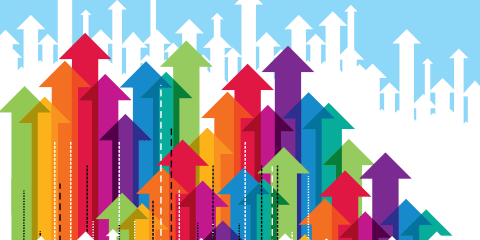 Though most of India Inc. continues to struggle with flagging sales and bottom-line growth, margins for a number of sectors are at their highest levels since December 2011.
Sales continued their negative growth trend, which has been visible in the last three quarters. A global slowdown has meant that companies are just not able to sell more. Even net profit growth has stagnated at 4 per cent (YoY) levels since June 2015 quarter - a far cry from the 17-18 per cent growth levels it had seen in the mid-2013-14 quarters.
What has been remarkable is that EBITDA margins, at 23.3 per cent, are at their highest levels seen since December 2011 quarter. The first graphic shows how margins of the companies other than finance companies have moved over the past couple of years.
A significant reason for this development is the crash in commodity and metal prices that their user industries are enjoying. The second graphic shows how margins have moved for various sectors for the December 2015 quarter over the corresponding quarter of the previous year.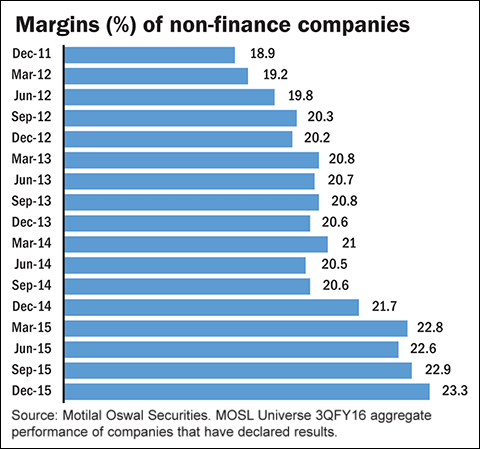 Sectors that have reported higher margins
Of the ten major sectors, a surprising seven have reported higher margins in Q3FY16 compared to year-ago levels. Here are some of the biggest gainers.
Automobile: Fall in metal prices, especially steel - a primary input material, as well as falling discounts and higher sales have seen sector margins in an uptrend.
Consumer goods: A similar pattern was visible with consumer goods. Fall in input prices, like palm oil (lately recovered), for soap manufacturers and other food input items has helped margins maintain momentum.
Cement: Lower input prices coupled with some price hikes in South India resulted in higher margins for the sector.
Oil and gas: The biggest contributor to higher margins in the sector is Reliance Industries, which reported seven-year-high refining margins. A judicious mix of products, among other reasons, has accounted for the high margins.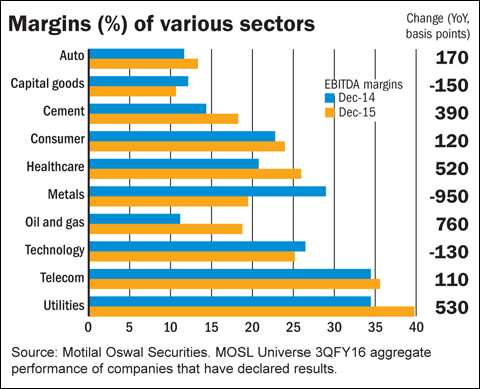 Sectors that reported falling margins
The following sectors have got their margins eroded:
Metals: Metal companies grappled with the twin-blows of falling demand, especially from the main client China, and crashing commodity prices. The sector has seen one of the biggest declines in margins.
Capital goods: The capital-goods sector continued to see pressure on margins. Larger companies have been slower to turn their fortunes around. Also, companies have trimmed their debts to see improved margins ahead. However, momentum and pace of execution are still weak in the sector and pockets of growth like highway could bristle up some action.