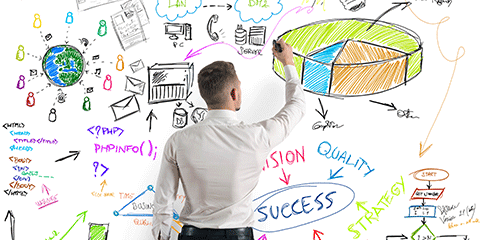 Murphy's Law states that anything that can go wrong will go wrong. In year 2015, Murphy's Law applied to every aspect of one's investments right from the macro predictions on reforms and FII flows down to the micro ones on sectors and stocks.
After 2015, one needs to be a very brave columnist to write an 'outlook for 2016' article that confidently forecasts the direction for different asset classes. I would not like to attempt it. So instead of making any predictions that are likely to backfire this year, why not learn some lessons from last year's forecasts that didn't pan out? Let's take stock of them.
The bull market in equities will continue
What was predicted: At the end of 2014, you would have been hard-pressed to find a market expert (or a financial journalist like me!) who wasn't bullish on Indian equities. The Modi government had just settled in and had begun to launch big-ticket reforms. Foreign institutional investors had invested $16 billion in Indian stocks in 2014 and the Sensex had wrapped up the year with a 30 per cent gain. With industrial commodity and oil prices in a decline, it looked as if both government finances and India Inc's profits would reap a bonanza.
What really happened: While the government pursued reforms such as the Land Bill and the GST with zeal, most of them stalled at the Rajya Sabha, where the government was short of the requisite majority. As economic recovery remained slow, corporate India failed to recapture its animal spirits. FII sentiment towards India went suddenly from red hot to lukewarm. Falling commodity prices took a toll on the profits of commodity-based companies. As a result, the Nifty and the Sensex closed 2015 with a decline of about 5 per cent each.
Lesson: Excellent macros and politics can't sustain a bull market. Only profits can.
Foreign investors will continue to bet big on India as it is the best option among emerging markets (EMs)
What was predicted: Year 2015 will be good for FII investments into India and flows could even exceed 2014 levels ($16 billion). FIIs would prefer India as it was set to be the fastest-growing economy in the world (ahead of China) in 2015 and 2016. Plus, India is among the few economies to actually gain from the commodity meltdown which was decimating other EMs. Given that FIIs returned in a big way to Indian equities in 2013, when it was growing at sub-5 per cent (old GDP series) and stayed on through the uncertainty of Lok Sabha elections, why would they turn cautious in 2015, with the economy on a stronger wicket?
What actually happened: FIIs sharply reduced their net purchases of Indian equities to $3 billion for 2015 from $16 billion the previous year. While India's economy did grow faster than those of other EMs, the looming threat of a Fed rate hike until the end of the year kept FIIs on the edge. FIIs of the short-term variety - hedge funds and event-arbitrage funds that bet on India before the elections - pocketed their gains and exited. The ones that remained seemed more worried about India's currency movements than the macros and turned net sellers in the latter half of the year. A strong dollar made them re-allocate to the US.
Lesson: FIIs are not all long-term investors and they have plenty of options outside of India. Forecasting what they will do is like predicting weather.
Corporate profits will get back to double-digit growth
What was predicted: The profits of Sensex companies, after bouncing back from the global credit crisis, had been growing at a snail's pace until FY14 (CAGR between FY08 and FY14 was 8 per cent). But with the economy revving up to 7 per cent growth and prices of key industrial inputs, including oil, falling, Sensex's profit growth was expected to accelerate to 14 per cent in FY15 and 22 per cent by FY16. Brokerages pegged the Sensex's EPS at ₹1,530 for FY16.
What actually happened: While domestic demand improved and companies did witness a fall in input costs, the global commodity meltdown battered the profits of energy, metal and commodity giants in the listed space. The deflationary trend in inflation made it difficult for companies to hike selling prices of their products. These factors led to the shrinking of India Inc's sales and the Sensex's earnings growing by just 2 per cent in FY15. The first half of FY16 has been better, but only marginally, with Sensex sales falling 6 per cent and profits shrinking by 2 per cent until September 2015. Though the second half is expected to be better, Sensex's profits are now expected to grow only in single digits (6 per cent) in FY16 ₹1,430. Double-digit growth has been pushed to the next year.
Lesson: Domestic growth may be easy to model into Excel spreadsheets but not global factors. Global factors like commodity prices affect over 40 per cent of Sensex's company earnings.
Interest rates will fall, propping up NAVs of long-term gilt and debt funds. Corporate credit bets will pay off with rating upgrades.
What was predicted: Though long-term gilt and income funds were sporting a double-digit return by end of 2014, the RBI had still not embarked aggressively on rate cuts. With inflation slipping sharply, market players were betting that the RBI would prune rates sharply through 2015. FIIs too were on a bond-buying spree, adding to the bullishness. These two factors were expected to trigger declines in interest rates and boost returns on debt funds that packed their portfolios with long-term G-secs and corporate bonds.
What actually happened: The RBI obliged with rate cuts of 125 basis points between January and September 2015, bringing down the repo rate to 6.75 per cent. But market interest rates stubbornly refused to follow these policy rates. The benchmark yield on the ten-year G-sec started the year at 7.9 per cent and ended it at 7.6-7.7 per cent, thanks to excess supply of bonds and FII pullouts due to the Fed factor. This allowed hardly any room for gains either in G-secs or bond prices. In corporate bonds, though there were upgrades, the Amtek Auto event spooked investors who took on credit risk. As a result, gilt and long-term income funds turned out to be the laggards among debt funds, with returns of 6-7 per cent. Liquid and ultra short-term funds outperformed, with 8 per cent plus returns.
Lesson: Interest-rate moves can be as difficult to predict as Sensex's moves. And market interest rates are influenced more by liquidity factors than what the RBI does.
So how does all this help us plan our investments for 2016? Well, one big takeaway is not to make drastic changes to one's asset allocation or financial plan based on what we hear from forecasters!