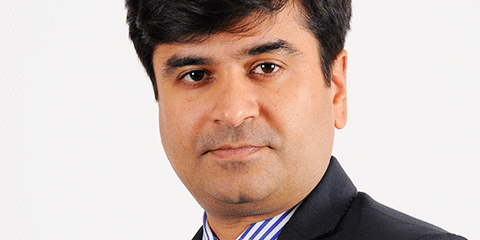 Motilal Oswal AMC's strength is focus and we are focused on our core competency: equity expertise inherited from Motilal Oswal Group's 28 years in equity research and advisory. We do not believe in offering anything and everything the customer can potentially buy; we believe in offering what we are best at. We are the only fund house with a hard-coded investment philosophy 'Buy Right: Sit Tight', where Buy Right means buying stocks that have quality of business and management, earnings growth and longevity of competitive advantage at a fair price (Q-G-L-P). Sit Tight means buy and hold a focused portfolio.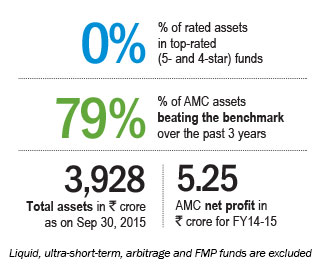 Our weakness lies in our inability to communicate our message and positioning on a wider scale effectively. Additionally, I would say that being a thorough-bred equity house, not being able to contribute to equity mutual funds penetration at an industry level also calls for introspection at our end.
Challenges ahead
The biggest challenge for FY16 as I see it hereon is communication to investors. There is a lot of enthusiasm and Indian investors have counter-balanced FII selling in the last few months. The FII selling is due to concerns elsewhere and I am confident that once the dust settles, India will get back more flows than what we have lost. How to ensure Indians keep investing and take benefit of this correction and how to provide adequate hand-holding despite market volatility are going to be the investment as well as business challenge for rest of FY16.
Competition
We have too many AMCs but not enough diversity - it's quite an irony. If they are all going to look the same, we don't need as many. As I see it today, we have nearly 500 equity mutual fund schemes to basically invest in some 200-300 companies that are worth investing, and all bond funds look the same. It is very common for AMCs to launch a series of me-too products one after the other if one AMC has seen some success doing so. Business strategy seems to be defined by competition. Differentiation is rare and I suppose customers are confused.
Retail expansion
We have only three open-ended, no-load funds and one ELSS scheme with average vintage less than two years. In this short period of existence, we have over 1.25 lakh folios in our open-ended funds and approximately 17 per cent of our non-proprietary AUM is from B15 locations. We work very closely with large aggregators and national distribution platforms across the country. Our sponsor has reach in over 500 cities and towns in India through owned branches and franchisee network. Further we work closely with large distribution platforms like NJ India and few others that help us propagate our message on wealth creation through equities.