Sohini Andani, fund manager, SBI Bluechip Fund, says the fund doesn't prefer to have companies which have consistently lagged its peers in terms of growth.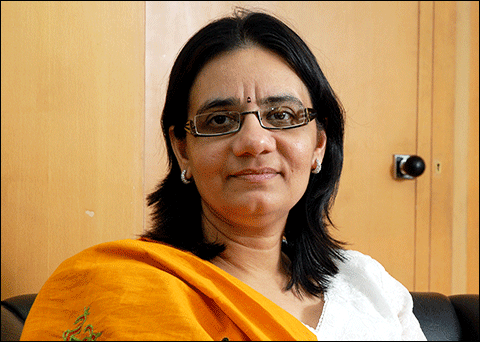 What is the Investment strategy for the fund? (Including internal rules investment universe, capitalization orientation and on maximum cash allocation)
SBI Bluechip is a large cap fund (large caps defined as the top 100 companies in terms of market capitalization rank) with a flexibility to invest up to a maximum of 20% in midcap stocks. The fund is benchmarked to BSE 100 index and its objective is to generate active returns vis a vis the benchmark and to beat its peers within the Large and Mid cap category, in that order. The minimum market capitalisation for any midcap stock is the market capitalisation of the last stock of BSE 100, which is currently in the range of 4000-5000 crs. Hence, the fund does not take any small cap exposure and the universe would essentially be Top 300 stocks by market capitalisation or so. The maximum cash that the fund can hold is 10%. The fund has internal template Limits for sector and stock exposure. The maximum overweight/underweight on the sector is capped at 8% and for individual stocks at 5%. Any midcap exposure is covered within these limits.
The fund has medium term (1 year) investment horizon for large cap exposure and 2-3 years horizon for mid-cap exposure. The midcap exposure is generally taken in a case where the stock has much better growth outlook and valuation gap vis a vis large cap peers over the next couple of years.
The fund follows growth strategy and the style is largely bottom-up, which is combined with a view on change in sector dynamics which would lead to sector overweight/underweight decisions. The focus is on generating alpha by better stock selection within the sectoral exposure.
What are the essential attributes for the stocks to be in our portfolio?
The fund focuses on identifying and investing in businesses and management who tend to consistently outperform in terms of growth with efficient capital allocation. For identifying stocks, we look for any positive change in leadership, monitoring key strategic decisions of the management (capital allocation, change in focus, diversification etc.) which would drive growth over the next 3-5 years. This is combined with a view on structural growth drivers for the sector and positive change in sector dynamics, if any. Also stock valuations are important (relative to own history and change in growth profile) in terms of deciding its relative weight in the portfolio.
What kind of stocks never enters your portfolio?
There is not any strict definition of stocks never entering the portfolio. However, the companies which have consistently lagged its peers in terms of growth and capital efficiency are generally not preferred as you always have better growth opportunities. Also, the companies which have had corporate governance issues and/or where the promoters' holding is very low are not preferred.
What will you attribute the relative consistent performance of your fund in recent years?
It can be attributed to the investment displine achieved by strict adherence of internal template limits and superior stock selection helped by the strong internal research team. Also there is focus on making less mistakes and look for higher margin of safety while buying into stocks.
Any tactical miss you regret (not having, or not having enough or holding something) in your portfolio?
There are always regrets for taking or not taking exposure to various stocks and sectors over the course of managing the fund. I would say that the key miss for me was not predicting sharp rally in cyclical sectors during the pre-election rally. The fund was underweight on Financials and Industrials sectors during this period and could not participate enough in the strong market rally.
Please click here to read the analysis of this fund.