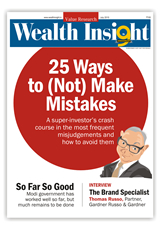 Wealth Insight is now nine years old! As we approach the successful culmination of our first decade, we decided to focus our celebratory July 2015 anniversary issue on the most important basics of investing.
As it happens, one of the basic tenets of investing is that avoiding mistakes is far more important than doing the right thing. That's what our cover story is all about. However, what we have done is a lot more interesting and a lot more useful than just list mistakes that you must avoid--we have dug out an classic, a talk by Warren Buffett's lifelong deputy Charlie Munger. Munger lists out 25 common human misjudgements and how they affect us. Along with our commentary and Indian examples, the cover story is a must read for all investors.
The second part of our cover story 'So Far So Good' is an evaluation of the NDA government's first year and its prospects, which looks beyond the daily anti-Modi circus that the mainstream Indian media has reduced itself to.
Our Interview of this month is with Thomas Russo, Investment Manager at hedge funds Gardner Russo & Gardner and Semper Vic Partnerships. Russo is an extremely successful and articulate investor, whose thought process about businesses and investments are of great value to investors. In a long, exclusive interview with us, he talks about a wide range of issues.
In Market Compass, read our analysis of 'Who owns how much'--the broad ownership patterns of Indian stockmarkets and how they have changed over the years. The changes in FII and promoter stakes give an interesting picture of what has happened with corporate India. Apart from large- and mid-cap stocks that made big moves, we also have an analysis of how key ratios like PE, PB, Dividend Yield and others.
In Stock Analysts' Choice, read an updated analysis of how Wealth Insight's recommendations would have made you much more money than the Sensex. In Analyst's Diary, we learn about a methodology of predicting bankruptcy in businesses, as well as an analysis of the indebtedness of Indian businesses.
Our regular columnists are here in this issue, with fresh and insightful comments about a wide range of issues that will affect your investments: Anand Tandon sees folly in what the RBI is doing with interest rates, Sanjeev Pandiya discusses the novel problem of low inflation, Devangshu Datta looks at how the economy, governments and the stock markets have moved in the past, and Vivek Kaul explains when Acche Din will arrive.
And of course, we also have other regular features like Stock Ideas in the issue.
Click here to subscribe to the printed version, or buy a digital subscription (PDF+online reader) instantly. You can also buy a digital copy of this issue without subscribing.