India's tourism industry booms with the state of the economy. The industry was hit hard post the financial crisis of 2008. The fortunes of hotels have not changed much since. There is more supply and lower demand. The balance sheets of many hoteliers are weighed down with debt accumulated to develop assets-many of which are now up for sale. Nine hotels received approvals for corporate debt restructuring amounting to ₹4,600 crore in 2012-2013.
The Government is now throwing big bucks to promote tourism. There is the ₹500 crore to develop five tourist circuits, ₹100 crore for National Mission on Pilgrimage Rejuvenation and Spiritual Augmentation Drive and ₹200 crore provided for National Heritage City Development and Augmentation Yojana. Also on anvil is the introduction of E-visas at nine airports, development of new airports in Tier II and III cities, boosting rail connectivity and developing expressways are expected to cumulatively boost tourism in the country.
EIH
East India Hotels (EIH) makes big money in a roaring economy. Most of its income comes from business travel. And most of its rooms-around 95 per cent are located in business destinations. Mumbai and Delhi for instance, alone account for 78 per cent of total keys (rooms) owned by EIH.
Running a hotel chain is a capital-hungry business. Hotels drain cash. That is why the larger Indian Hotels (Taj Group) racked up debts of ₹4250 crore (FY14) and debt servicing eats up close to 30 per cent of its operating profits.
EIH has reduced its debt burden by two-thirds, from ₹1435 crore (FY10) to ₹452 crore in FY14. Interest cost as a percentage of operating profit is down from 36 per cent to a more manageable 14 per cent in this time. With the company not planning any major expansion ahead, working capital is likely to become more efficient.
We choose EIH over its larger peer, Indian Hotels, on account of the former's higher Ebitda growth, higher returns on capital and a low debt-equity ratio of 0.2x.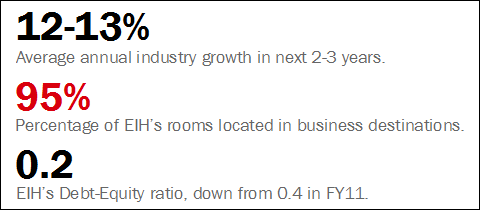 Thomas Cook (India)
Thomas Cook has started seeing its fortunes improve. The company has three main verticals of foreign exchange, MICE (meetings, incentives, conferences and exhibitions) and domestic business. In the half-year ended June 2014, all of Thomas Cook's verticals have done well. Foreign exchange revenue was up 26 per cent over the previous year, MICE was up 34 per cent and domestic business was up 113 per cent.
Thomas Cook India is now owned by Fairfax Holdings. Hyderabad-born Prem Watsa controls nearly half of Fairfax and is often called the Warren Buffett of Canada. Watsa has made a reputation for creating value in the assets he acquires. Thomas Cook has already made three acquisitions under Watsa so far: Travel Corporation of India for ₹180 crore, Ikya (₹285 crore for 74.85 per cent stake) and Sterling Holidays, a vacation ownership company for ₹870 crore.
Watsa will continue to create value for Thomas Cook. In various interviews he has made clear that he will add value with more acquisitions in the future. Buy and hold.