Kochouseph Chittilappilly started selling voltage stabilizers under the brand name V-Guard in 1977. He was 27 years old then. Nearly 40 years later, V-Guard is the largest manufacturer of voltage stabilizers in the country and has presence in a whole host of other consumer products that include geysers, fans, pumps and inverters.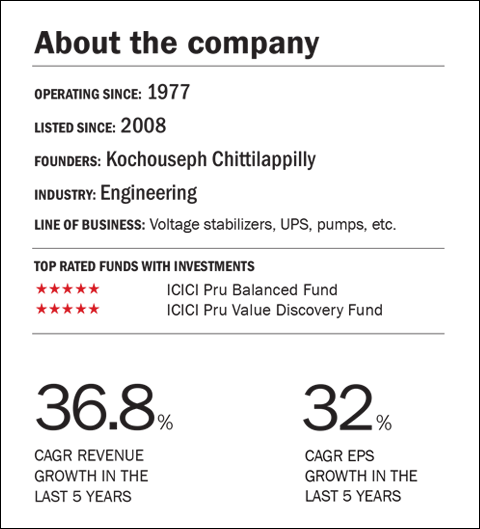 Chittilappilly is not your typical Indian businessman. A few years ago, he donated his kidney to a truck driver in a chain scheme that saw the truck driver's wife donate a kidney to an unrelated person. The unrelated person's wife in turn donated her kidney to another in a chain.
When militant trade unionists forced his workers to strike in the mid-1980s, Chittilappilly outsourced his products to smaller enterprises. That practice continues to date. V-Guard procures most of its products from vendors-many of them small scale. An added advantage of this strategy is that operations remain asset light.
Strength
Undisputed leader of voltage stabilizers. V-Guard started its business selling voltage stabilizers. Call it first mover advantage or a strong brand positioning, V-Guard today has a 34 per cent market share of the ₹600 crore organized stabilizer market in India. Its next biggest competitor Capri has a market share of a distant nine per cent.
Wide range of established products. V-Guard has a wide range of products. The company has made its mark in a number of them. In the UPS segment, it is the third largest with 20 per cent organized market share. In pumps it has a 15 per cent share. Water heaters 12 per cent, and cables seven per cent market share.
Non-South expansion on track. For most of its life, V-Guard has been a predominantly South-based player. As late as 2007, around 97 per cent of its revenues came from the Southern states. In the last couple of years, the company has changed its strategy and started a pan-India approach. That opened a much larger market that V-guard had so far not tapped.
Today, non-South region brings in close to 30 per cent of the company's revenues. V-Guard has expanded into newer territories of UP, Punjab, Rajasthan, West Bengal and Orissa. Its sales network now reflects the change in strategy. Close to 60 per cent of its 4300 plus dealers and half of its 25,000 retailers are in the non-South regions. As more dealers and distributors are added, the ratio of addition from the non-South region is likely to continue to be higher than the South for the next couple of years.
Price discount in North dissipating-to positively impact margins. In a bid to gain acceptance and market share in the non-South regions, V-Guard priced its products lower than what they were selling at in the South. This discount was generally in the range of 5-6 per cent. Though the concession looks minor, the full impact of this strategy was felt on the company's margins that declined from 11.1 per cent in FY10 to 8.1 per cent in FY14. Those discounts have now narrowed to around 3-4 per cent and the management has guided it to fall further in the coming years.
Higher ad spends to drive growth. Launching services in a new geography has meant that V-Guard has had to spend more than its competitors. V-Guard's average ad spends at 4-5 per cent of revenues were higher than peers like Bajaj Electricals (1.5 per cent average in the last five years) and Havells India (three per cent). All that investment appears to be paying off. Revenues from non-South regions grew by 33 per cent in FY14. The company is likely to keep ad spends higher in the next couple of years before cooling it down to 3.5- 4 per cent levels.
Gains from working capital efficiencies. V-Guard management has been working to bring efficiencies in working capital and has targeted to bring down working capital cycle by five days every year. The receivable cycle has reduced from 53 days in FY13 to 50 days in FY14. Inventory days have also climbed down from 90 days to 82 days during the same period. A leaner working capital structure helped the company increase cash from operations from ₹10 crore in FY13 to ₹120 crore in FY14. ROCE is expected to move up going forward.
Asset-light model. V-Guard has traditionally relied on outsourced manufacturing, maintaining its focus on brand building and quality controls. Around 60 per cent of the company's products are outsourced. The company doesn't manufacture many of the products it sells. Among that it does manufacture are wires and cables, solar water heater and a small number of fans, pumps and electric water heaters. The asset light model frees up its resources to focus on branding and marketing. Capex requirements are consequently low.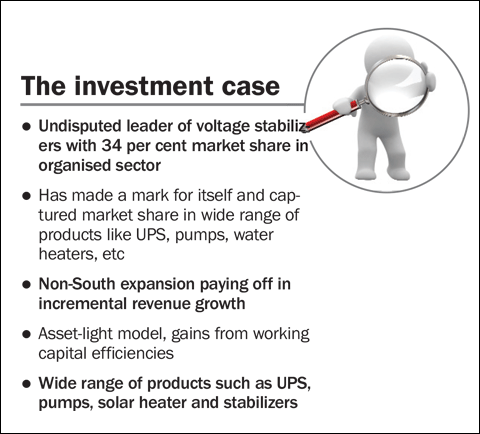 Concerns
Dependence on monsoons. The demand for pumps largely depends on the monsoons. A good monsoon can lower the demand as water becomes widely available but this year's less than normal monsoons could see demand going up.
Power availability or shortage impacts sales of UPS. A better power situation in the South especially after a fall in demand and lower power cuts leads to lower sales of digital UPS.
Voltage stabilizers depend on demand for white goods. Voltage stabilizers are largely used with white goods. As such, sales of stabilizers depend on sales of white goods in any period.
Financials
V-Guard has an impeccable record. In the last five years revenue grew 36.8 per cent CAGR while earnings per share was up 32 per cent. ROCE averaged 26 per cent during the same period.
Valuations
V-Guard trades at 28 times its ttm earnings. The company still has a long way to go before it truly becomes a pan-India brand. That means the opportunity to scale up is right in front of it. A high decibel marketing strategy may cost the company more today but is likely to build brand awareness in regions where it has not traditionally been present. V-Guard's story may have just begun. If its past record is anything to go by, there are greater gains ahead.