In the run up to the 2014 general elections, the one section of the market that gained the most were PSU stocks. The rally continued post elections, on the Modi wave, anticipating clear revival plans for these companies. In fact, in May and June; heavy buying of PSU stocks was seen in anticipation of a change in the way they would be run. However, in the past two months, PSU stocks have lost pace and with it its euphoria. The result: most PSU stocks are down about 20 per cent on an average.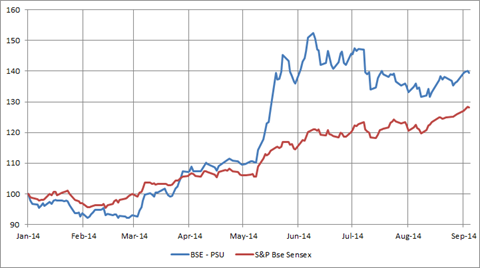 If the stocks were up it was due to the gap between their fair value and real value before the election rally and their fall has been on count of huge profit booking post elections, when many smart investors exited. In the midst of this change in fortunes; the biggest casualty is the disinvestment calculations of the government which was based on the high stick prices. Yet, the government will be happy, as on a year to date basis PSU stocks are still above the Sensex levels in terms of returns. In 2014 Sensex has given a return of 28 per cent whereas the S&P BSE PSU index has given a return of 40 per cent.
Click here for BSE PSU companies and their periodic returns.