Mistakes can be turned into stepping stones for success. One such mistake we made was recommending Pune-based Innoventive Industries. The engineering company operates in three divisions: Tube, Sheet and Auto Products. In the last one year its stock has nosedived from ₹104 to a low of ₹10; losing more than 90 per cent of its worth. What went so badly wrong which we could not foresee?
Its business took a hit because of the slowdown in the Auto and power sector; two of its major client segments. While the same problem was faced by other players, Innoventive suffered poor management. Innoventive had raised ₹219.6 crore through its IPO and got listed at ₹110 on the BSE in May 2011.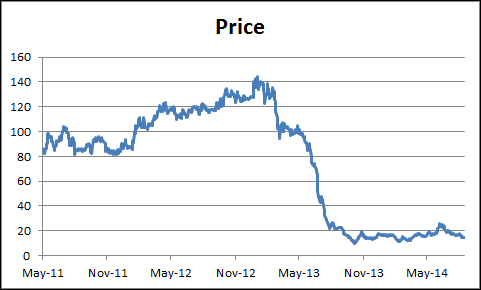 In its IPO prospectus, the company had mentioned that it will utilise the raised funds to expand its production facilities at Pune, for repayment of loans worth ₹163 crore and general expenditure ₹50 crore. However, the fund was not used to repay loans, instead the company took more loans. Innoventive reported a loss of ₹482 crore in FY14 and its current liabilities has risen from ₹305 crore in FY13 to ₹762 crore in FY14. The company applied for corporate debt restructuring in September 2013.
When viewing this company through its quarterly income statement, it was difficult to catch slippages. The warning signs of rising receivable days and working capital did find mention when we recommended the story. Yet, it was an oversight. Can such oversight be avoided?
Yes, it can be if it is made mandatory for companies to report balance sheet and cash flow statements on quarterly basis and real time reporting of IPO funds utilisation by the management. Such a move will be in the interest of small investors, who get to know of such details too late in the day.
| | | | | | | |
| --- | --- | --- | --- | --- | --- | --- |
| Performance indicator | | | | | | |
| Year | TTM | Mar '13 | Mar '12 | Mar '11 | Mar '10 | Mar '09 |
| Market Cap (₹Cr) | 112 | 626 | 655 | - | - | - |
| Revenue (₹Cr) | 549 | 824 | 770 | 703 | 421 | 362 |
| Net Profit (₹Cr) | -483 | 70 | 89 | 68 | 31 | 16 |
| EPS (`) | -81 | 10.7 | 13.4 | 15.2 | 3.9 | 1.9 |
| Net Margin (%) | -84.7 | 8.3 | 11.3 | 9.7 | 7.2 | 4.2 |
| PE | 0 | 9.8 | 8.2 | 0 | 0 | 0 |
| PB | 0.2 | 1.2 | 1.5 | 0 | 0 | 0 |