Unlike the monsoons that have played hide and seek, dividends have been pouring. In financial year 2014, dividends from the listed companies have grown by 20 per cent, the highest in the past four years. We analysed the dividend payout ratio, which is dividend as a per cent of net profits; it rose to a record 32 per cent which is the highest in the past seven years. Last year Indian corporates had a record level of cash surplus which was lying idle due to lack of investments and expansion opportunities. The surge in dividend in FY14 shows that companies are still finding hard to utilise cash and preferred distributing it as a cash. Not only PSU companies witnessed this rise, but also companies in the private sector. However, PSUs had to shell money to meet the Government's fiscal deficit. Out of the total dividends of ₹1,40,098 PSUs accounted for 43 per cent.
In FY14 all the listed companies on BSE have witnessed the highest growth in the total dividends in the last 4 years. Dividend as a per cent of net profit also rose third time in a row to 32 per cent.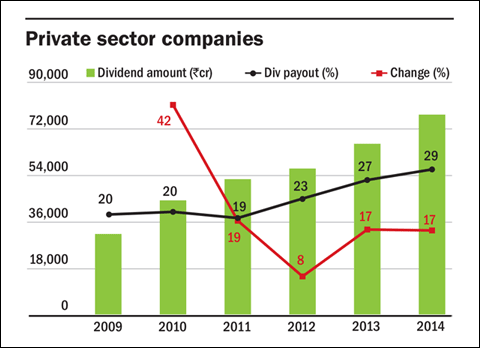 In the private sector dividend grew at the same pace and also increased the dividend payout for record 4th time in the last 5 years. Much ahead than the dividend paying PSU banks.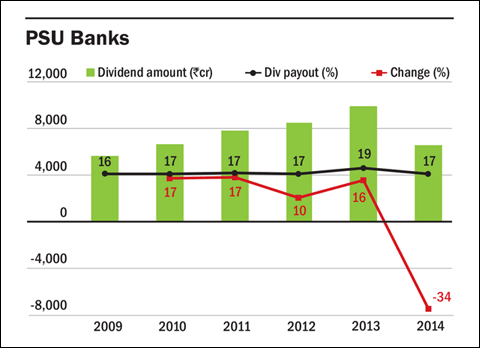 Dividends in FY14 fell for the first time for PSU Banks in the last one decade. Major reasons can be attributed to the fall in earnings due to higher provisions for slippage in NPAs. Dividend payout ratio also took a hit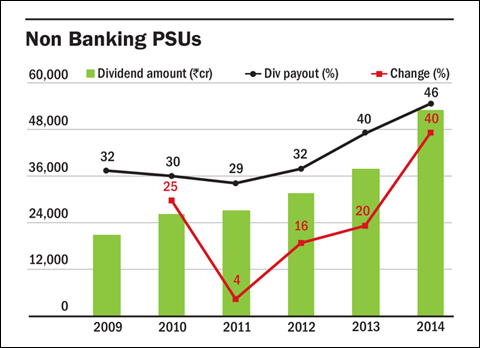 Non PSUs have paid a record dividend in FY14 which grew at 40 per cent in FY14 and at a pace of 20 per cent excluding the special dividend of Coal India. PSUs have touched the threshold of 40 per cent of payout