Cera Sanitaryware
Cera Sanitaryware is in the business of manufacturing sanitaryware, faucets, bathroom accessories, tiles, kitchen sink and personal care products like hand dryers. Cera has witnessed a very high growth in its revenues and earnings which works to an annualised 30 per cent in the past five years. This growth could be attributed to a change in branding and marketing strategy. Further, low debt and high margin has ensured to keep its return on equity high.
HSIL
Hindustan Sanitaryware & Industries Limited or HSIL is in the same business as Cera Sanitaryware and the company is additionally into manufacturing container glass. HSIL sells under the Hindware brand and the glass division sells through its subsidiary AGI Glasspack. The company has several international collaborations to improve product quality. Although HSIL has witnessed decent growth in revenues, it is still struggling to improve its Return on Equity.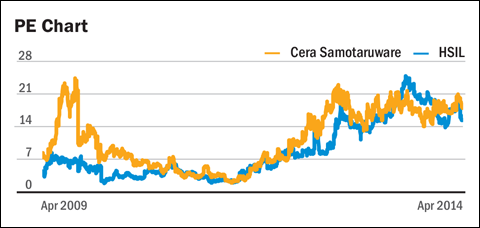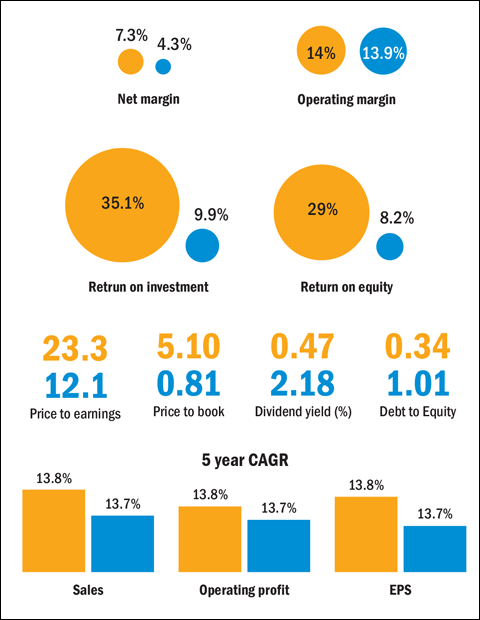 Historically HSIL has commanded a premium over Cera due to its scale but, since mid 2012 this trend has reversed and HSIL is now trading at half the valuation of Cera in terms of price to earnings. This is due to the slowdown in the revenue and profitability growth of HSIL's container glass segment and drop in the net margins due to higher interest costs. Cera has witnessed an all round exceptional growth. HSIL's recovery depends on the improved performance of the glass segment.