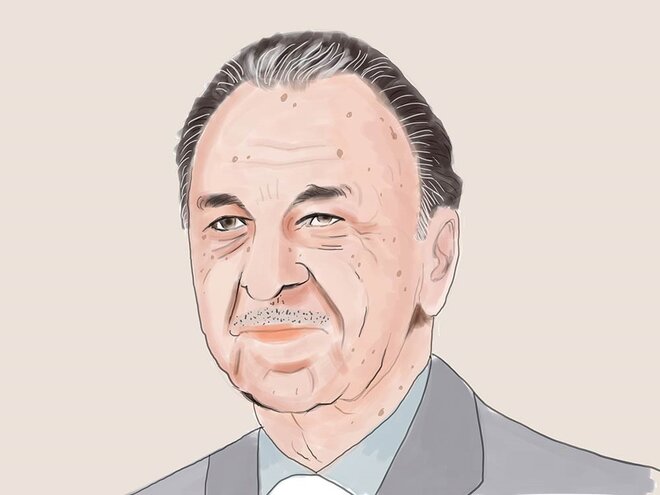 I first met JRD quite by accident when I went to Bombay House to look up my friend Minoo Masani, an equally redoubtable Parsi and much more, who was then working as JRD's major domo. Masani was one of the founders of the Congress Socialist Party - and also at one time mayor of Bombay - but he had renounced socialism and taken up a job in Bombay House. He had a small office near JRD's where we sometimes met and chewed the cud over a cup of tea.
Not finding Masani in his office, I opened a door and found myself in a much grander room - JRD's office - with several ancient Tata faces looking down on me. So, I thought I would look for him in the corridor. I saw a slightly elderly man walking towards me. I tiptoed down the carpeted corridor.
"Are you looking for somebody?" the man asked. "Yes," I said, "I am looking for Masani." "I am looking for him myself. Let us go down there." He took my hand and we both started looking for the elusive Minoo Masani, who once had eluded even the British who, at the height of the Quit India Movement, were looking for him high and low from Delhi to Madras.
This was my first meeting with JRD, who, of course, did not know me then and said nothing, as he handed me over to Minoo, who had by then surfaced from the Bombay House underground. For years I had been urging JRD to write his autobiography - I used to ask G D Birla as well as Dhirubhai Ambani to do so - but he used to say that his life was a dull one and there was not much he could say, except perhaps on management, a subject I have always found execrable.
I used to tell him that management was a subject fit only for those who worked for others, not for the likes of JRD or Dhirubhai, who were in many ways self-made men. One day I received from JRD a slim manuscript, which was just a collection of his articles on, what else, management, which did not make much sense to me. Why should JRD write on managing this and that, something even an IIM graduate could do? Surely, I told him, JRD should write on JRD, a most exciting subject.
But JRD always said that he had no time for a full autobiography, which was, of course, not true. He did manage to write sometimes but I have often felt that he could have done better.
He once told me a story of how other countries, including smaller ones like Singapore, which were no countries at all in a strict sense of the word, were stealing a march on India. This was a long time ago, when Singapore had not become what it did a few years later.
He had been to see Lee Kuan Yew, the then prime minister and all-in-all of Singapore, one morning, to ask for his help in setting up a plant to assemble trucks in the Lion city.
It was not a big affair, but the Tatas wanted to use it as a base for expansion in South East Asia in due course. Everything was sorted out so quickly that JRD got a little sceptical of Lee's promises. "When do you think we could start?" asked JRD, a question he used to ask the babus in Delhi, but never really waiting for a reply. "Why," said Lee, getting up from his table, "Start this afternoon." JRD used to say that he never met Lee again and did not try to. There was just no need for it.