Established in 1960, National Building Construction Company (NBCC) undertakes the Government's civil engineering and construction projects. This category I Mini Ratna Company operates under the Ministry of Urban Development and has its business in three broad segment: Project Management Consultancy (PMC), Real Estate Development and Engineering, Procurement and Construction (EPC) Contract.
The PMC segment provides consultancy and outsourcing of construction work in residential, offices, commercial, educational institutions, roads, water supply and storage solutions on a fee-based model. The EPC contract segment undertakes the designing, engineering and construction for power projects and working on cooling towers and chimneys. The real estate division develops commercial and residential projects wherein it has land reserve of around 145 acres in Delhi, Khekra, Gurgaon, Patna, Alwar, Kochi, Kolkata, Faridabad, Ghaziabad, Meerut, and Bhubneshwar.
NBCC has also executed several overseas projects in Libya, Iraq, Mauritius, Maldives, Yemen and Turkey. Currently NBCC is executing projects in Maldives and Botswana. The company has also been designated as the implementing agency for projects covered under Jawaharlal Nehru National Urban Renewal Mission (JNNURM), Pradhan Mantri Gram Sadak Yojna (PMGSY), Solid Waste Management (SWM) and developmental work in the North Eastern Region.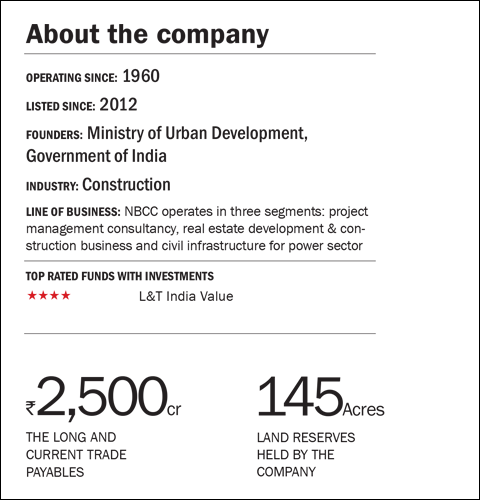 Strength
NBCC is financially strong, with a clean balance sheet, zero debt and abundance of cash. The company has good float as apparently the working capital requirement is negative thus saving on the funds required amid high interest rates which otherwise is common in the sector. In FY13, inventory, debtors and loans and advances amounted to ₹2,000 crore and were funded by interest free funds availed by advances from customers. The long and current trade payables amounts to ₹2,500 crore. This is very desirable attribute for a real estate and construction company.
The company has been categorised as Public Works Organisation (PWO) where the government bodies can award work to NBCC on nomination basis. The company has its hands full with government projects and does not lack on the work front, as its major clientele happens to be the government itself. The company was flooded with projects worth of ₹12,163 crore by the end of FY13.
NBCC completed the Okhla real estate project in Delhi with commercial space of 2 lakh sqft, developed at ₹200 crore and is currently valued at around ₹500 crore. The company says that it will able to exploit its value by end of FY15. Apart from this the company has a land reserve of around 145 acre across India in prime locations which it will be developing for commercial and residential purposes. While the commercial space are preferred mostly by the PSUs, the residential colonies are not facing demand crunch as they are very cost effective compared to private builders.
Growth drivers
The PWO tag helps the company attract new and upcoming projects. NBCC is focusing more on the real estate segment and is trying to improve its share in its overall turnover. The company is also pushing for the same because of higher margins in the real estate business than in the civil construction on a fee model.
The company's biggest project so far, was awarded by The Ministry of Urban Development in FY12, which is the work on the re-development of Kidwai Nagar colony in Delhi. In this project, NBCC is to build around 4,700 residential houses and commercial properties covering an area of 10 lakh sq ft. The project is valued at around ₹4,500 crore and will be implemented on a fee basis. On the same lines, the Ministry awarded three more massive redevelopment projects of old government colonies at Netaji Nagar, Kasturba Nagar and Thyagraj Nagar in New Delhi. On the anvil are 30 more similar old government colony re-development including schools and hospitals.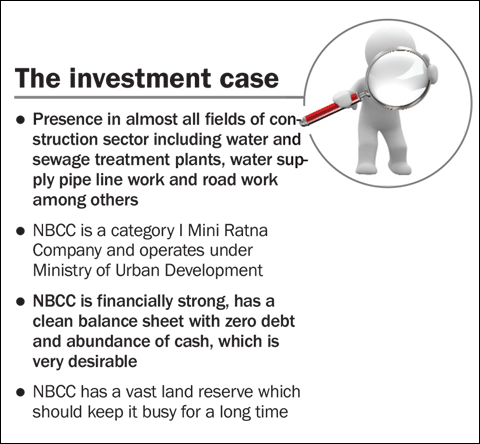 Concerns
Contract and fee based model in the civil construction had a very low margin at 4.6 per cent in FY-13 and since 80 per cent revenue comes from this segment, overall margin is quite low at 6.5 per cent compared to the infrastructure and real estate division where the margin is more than 20 per cent. However, overall margin has improved over the last three years with more focus on the real estate business.
Income from other non operating sources account for around 50 per cent of the operating profits. This income is from the interest earned from the deposits with banks and dividends earned on the liquid investments. Thus margin from the core business comes further low after excluding other incomes.
Being a government company NBCC faces delays in the redevelopment projects in Delhi and other metro cities due the bureaucracy and slow pace of decision making at the ministry level. More autonomy could pace the projects and lead to timely delivery, which is very important in this sector because delays comes on the back of cost of funds.
Financials
Receivable days are very high (100 days) but the company has countered it by managing to keep payable days even higher (122 days). NBCC has the lowest inventory days at 62 days, which is the lowest in the sector. It has also kept the cash conversion cycle days low at 40 days, while keeping cash flows from operations positive. Further, NBCC is also generating free cash flow year on year adding to the available resources.
Valuations
The stock was listed as recently as April 2012 at ₹101, which is now trading at its all time high of ₹250. This figure is 12 times its trailing twelve months earnings. Despite more than 50 per cent premium to its all time median of 8, we believe the stock is a value buy. With the market cap of ₹3,019 crore zero debt and cash and equivalent of ₹1,663 crore enterprise value come at ₹1,356 crore and cash per share to ₹113 per share which is 45 per cent of the current share price. With strong financial and deep value the stock is very strong buy. We also recommended this stock in our PSU special issue in Jan 2014 at price of ₹137.