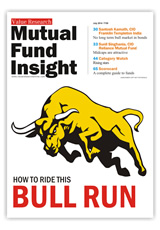 The new government is in place, and as expected, the equity markets are surging. This surge started long before the election results, as soon as it became clear that India was likely to elect a growth-friendly government.
However, along with the bull run come all the challenges and responsibilities of investing in it. It isn't easy to invest in a bull run, simply because even dubious investments are doing well. There are far too many distractions and it's far too easy to make wrong choices.
The July 2014 issue of Mutual Fund Insight is on the stands and its cover feature, 'How To Ride This Bull Run' is designed to help you stay focussed on the right kind of investments. It's not a single story, but an entire feature which consists of seven stories, including analyses from our own experts, interviews with fund managers, and opinions of external experts.
The Category Watch for the month is on Mid and Small Cap funds. These funds have done superbly, but the high returns can hide high risks. It's a great way for aggressive investors to make a lot of money, but only if they choose the right funds. Along with the Category Watch is our Fund Select feature that has detailed analysis of eight funds from this category that our analysts have picked.
As always, there are regular features like Fund Radar, Fund Diary, and columns from writers like Vivek Kaul, Jay Dubashi and Paranjoy Guha Thakurta and our comprehensive Scorecard of Mutual Fund data.
The issue is now on newsstands. You can also subscribe to the print and digital editions here, as well as get instant access to digital copy of this issue.