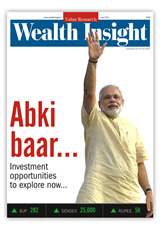 Narendra Modi and his cabinet ministers are just about settling into their new roles, and the stock prices had already run through a good-sized rally, long before the new government was even sworn in.
Somehow, there are a lot of investors, analysts and traders who have a high degree of certainty about which sectors and which stocks will benefit and which will not. For example, PSUs, banks and infrastructure have zoomed up, while IT and pharma are languishing. The logic behind such reasoning is simple and obvious, but fundamentally wrong way of looking at the future now.
The long-term impact of the Modi government will be huge but it isn't easily predictable today. It needs a deeper analysis of what will be the forces unleashed by the coming reforms and how they will impact the market.
If you're looking for simple predictions, here's one: unlike what you hear, a likely Sensex level of 50,000 is not on the cards. If this government fails, the Sensex will be around 25,000 even five years from now. If it succeeds, we're looking at 200,000+. There is no 50,000 scenario here.
But that's a projection. To invest, you need a plan. In the June 2014 issue of Wealth Insight, we have put together a special package of reports and analyses studying the possible direction that stocks will take.
This seven part 'Abki Baar...' package gives you everything you need at this stage to approach equity investing in this new phase that has started on our equity markets.
Of course, the issue also has all the regular features, like Analysts Choice, Market Compass, Stock Ideas, Wealth Insight Advisory and exclusive columns.
The issue is now on newsstands. You can also subscribe to the print and digital editions here, as well as get instant access to digital copy of this issue.