Godrej Consumer Products (GCPL), is a Godrej group company and manufactures households and personal care products. GCPL has its interests spread over three broad segments: home insecticides, hair products, and soaps. The company has well known and established brands under these businesses such as Good Knight, Cinthol, Godrej No. 1, Expert, Nupur, Hit, Fairglow and Ezee.
In the past six years, the company has aggressively forayed into international markets through mergers and acquisitions. Revenues from international operations has gone up from 22 per cent in FY07 to 46 per cent in FY13. In this phase, GCPL's geographic presence has expanded into Africa, and Latin America with Indonesia and Africa being its most important markets which accounted for significant revenue share of 20 per cent and 11 per cent respectively in FY13.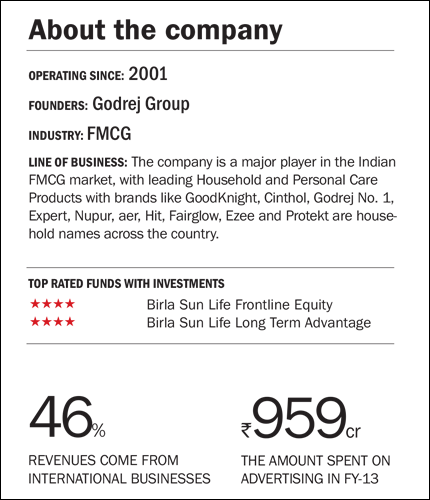 Strengths
GCPL has strengths in each of the three segments it operates in. In the home insecticides segment, it has the most competitive strength with two well entrenched brands: Good Knight and Hit. Given the tropical conditions in India, mosquitoes are prominent throughout the country. The home insecticides segment has grown at a high pace and has captured a significant market share. Even in the international market this segment has grown at a high pace in countries across Africa and in tropical Indonesia. The home insecticide is a high margin business and the major competitor in this segment are Reckitt Benckiser's Mortein and S.C. Johnson's All Out.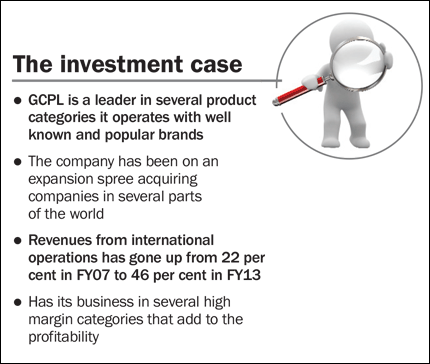 The hair care division is the most profitable with high margins and has the highest market share in India. GCPL benefits from the absence of hair colour products in the price range in which it operates, with its biggest competitor being L'Oreal priced at a premium. The value for money products in this category has created a moat for GCPL. GCPL has also become a leader in hair extensions in Mozambique, Nigeria and Kenya market after it acquired products from the Darling Group brands in Africa.
In the soap segment, the company has benefited from wide product offering, rural reach and competitive pricing. Altercative pricing makes it attractive for customers in both rural and urban India. The company has limited its soap segment's operation to India. And, after market leader HUL, it is GCPL that has the next biggest market share of 10-15 per cent in the soap segment.
Growth drivers
In the insecticide segment in India, the per capita consumption is way below when compared to countries with similar climate and mosquito menace. Mosquito-related health threats like dengue and malaria, has boosted awareness about prevention of such diseases, which in turn has boosted the sales of insecticides. In the international market, the major push in revenues in this segment may come from the recent introduction of Good Knight brand with the coil and aerosol variants in Nigeria.
In the hair care segment, GCPL has the powder based hair colour products which are priced significantly lower than what is available. However, the company recently introduced the crème variant under the Godrej Expert brand; a move that will help GCPL tap the slightly high priced hair colour segment customer base and take on L'Oreal head on, which has only premium-end products. The company is also very bullish to increase its market share and customer base with its colouring kits and ammonia-free gel format. These new innovative products are a result of its international acquisitions.
The soap segment is highly competitive and prices are closely followed among rivals. The only factor for charging a higher price is the product differentiation by way of value addition and product positions. GCPL is working to re-brand its Cinthol braded soaps to position it as a premium product and charge a higher price, a gamble that only time will show if it pays.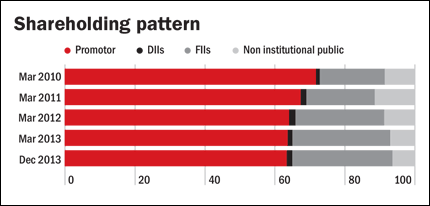 Concerns
Competition is the biggest concern, with several established and unknown players in this segment. GCPL has been spending large sums of money on advertisements which is most likely to continue with the company expanding its operations and new product launches, which could lower margins.
Further, GCPL has been operating with negative working capital as is the case with the sector in India but this may come under pressure with operations expanding overseas. The reason for which is the longer receivable days in the overseas market which is usually very short or is not present in India.
In its global operations, Indonesia is witnessing high inflation and may escalate the input prices and wages which could further lead to pressures on the margins. The domestic and overseas operations of the company are mostly in the emerging market which are going through currency depreciations and may impact the company if they fall further.
Financials
GCPL's revenues have grown at pace of 42 per cent per annum over the last five years and net profit at 40 per cent over the same period. The company had a debt of ₹2,456 crore raised for the overseas acquisitions and operations. But despite a huge capital expenditure it has still been able to generate free cash flow in the last two years and is expected to do so in the future and hence leveraging on debt will be favourable.
Valuations
The stock is trading at 30 multiple of its earnings at a price of ₹761, marginally higher than its 5 year median of 28.7. Current price to book is 11 per cent discount to its 5 year average of 7.78. GCPL's price to earnings is lowest amongst the peers like P&G and HUL. The valuations of the overall FMCG sector has reached to new high in the past couple of years post the 2008 crisis as they are the defensive sectors and perform well when no other sector does well in the market. In the confused market scenario FMCG may grow with this premium but any big bull run can leave them behind. These factors are short terms and if you are a long term investor then GCPL should be a part of your portfolio as defensive sector allocation.