I am 61 and live alone. I will earn Rs 70,000 each month in 2013, Rs 77,000 each month in 2014, Rs 85,000 each month in 2015 and Rs 93,000 each month in 2016. I invest in SBI Dynamic Bond, BSL Medium Term Retail, DSPBR Top 100 Equity, ICICI Pru Focussed Bluechip Equity, HDFC Top 200, ICICI Pru Discovery Growth, IDFC Premier Equity and Franklin India Bluechip fund. I also have some savings from PPF, FDs, equity and derivatives trading. I have a personal health policy worth Rs 2 lakh and a health policy from employer. I want to accumulate a corpus of Rs 1.35 crore for retirement. Do I need to recast my portfolio on the date of retirement or do it gradually over the next four years before I retire? -Anonymous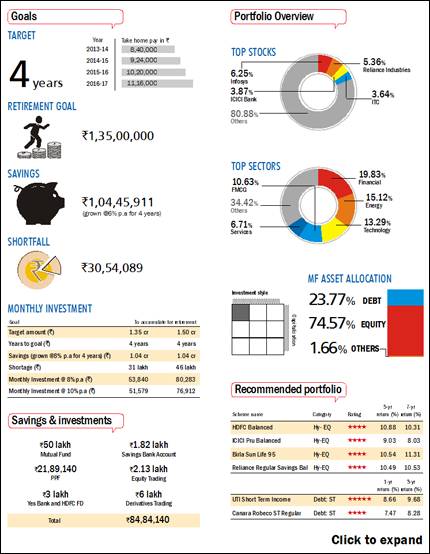 Overview
Though retirement planning is a long term process, you are sitting pretty despite just four years to go in your case. Going by your desire to spend Rs 1 lakh per month post tax with 5 per cent increment every year during your retirement years till 90 years of age, you would require approximately Rs 1.35 crore for your twilight years (you have instead set the target of Rs 1.5 crore). While the target of Rs 1 lakh every month seems achievable, reaching Rs 1.50 crore in next four years will not be easy going by your investment plan and may entail curbing your current expenditure.
We have assumed your accumulated funds will continue to grow at a conservative rate of 6 per cent every year during your retirement. You have already accumulated Rs 82.70 lakh (excluding emergency fund of Rs 2.1 lakh) till date which if further grows by 6 per cent will amount to Rs 1.04 crore in four years. This leaves you with a target to accrue the remaining Rs 30 lakh which can easily be achieved by investing Rs 54,000 per month, assuming an annual return of 8 per cent.
Do's
* Three to six months of household expenses is sufficient to take care of any emergency situation in future. In your case three months' expenses come to approx. Rs 2.1 lakh
* You may take out the excess amount from your bank FDs and saving account and invest it for your retirement
* At present, you have adequate health insurance cover when taking your independent policy and the one from your employer into account
* You don't need to surrender the one from your employer on retirement. You can continue this policy on your own, as permitted by portability now. Consider a critical illness cover too * We recommend balanced funds which apart from stability, are tax-efficient. Long term capital gain will not be taxed in case of balanced funds. Don't invest in lump sum
Keep 4 to 5 years post retirement expenses in short term debt funds to ensure their safety. Keep switching your corpus from balanced funds to short term debt funds to lock-in the returns generated by balanced funds
* If you have health-related problems, it would not be a bad idea to keep Rs 1 lakh as buffer at home
Don'ts
* Your current mutual fund portfolio comprises 75 per cent equity and 25 per cent debt which is not recommended considering your age and the fact that you are just four years away from your retirement. You need to maintain a balance between the two
* Comfortable retirement is a non-negotiable goal which has to be managed with due care. Equity trading and derivatives trading should be avoided as they are risky. Redeem your money from these and invest into suggested funds