Nesco was established in 1939 as a tool and engineering product manufacturer. It was in 1992 when the company moved into the new line of business which proved to be the fortune turner for it -- the exhibition centre. Nesco owned 'Bombay Exhibition Centre' (BEC) is the largest private exhibition centre in India and second-largest overall after Pragati Maidan in Delhi. The company is also into real estate wherein it has three IT parks which are leased out to IT companies and MNCs. Nesco owns 70 acre of land in the Mumbai suburb of which only 35 per cent is currently utilised.
Exhibition business
BEC, which accounts for more than half of the company's revenue, has a carpet space of 4,50,000 square feet. BEC leases out the space to exhibition organisers such as are UBM India, Reed Exhibitions, Messe Frankfurt.
It enjoys monopoly in Mumbai as it is the only covered and flat space available to hold exhibitions on a large scale. The BEC has a few competitive advantages -- located in Goregaon, a Mumbai suburb, is also very close to the airport.
The business is a cash cow for the company. In FY12, it generated a revenue of Rs 76 crore while spending only Rs 4 crore on maintenance and repairs. Other expenses included, the business still has an operating margin of more than 85 per cent. BEC receives full lease rent in advance in installments months before any exhibition and hence, doesn't require any significant working capital to operate.
Real estate
The real estate segment, Nesco IT Park, has three towers. The first two towers have an area of 3,00,000 square feet which are leased out to IT companies and MNCs such as Schlumberger, TCS, Sodexo, Vodafone and Intelenet. Tower III, which was commissioned recently, has added a space of 8,00,000 square feet, most of which is still vacant.
Nesco IT parks are built on owned land and with the company's own resources. This reduces capex and gives a high RoI. In FY12, the IT Park fetched a rental income of Rs 27 crore which also have a high operating margin of more than 80 per cent. However, revenue growth from IT Park was negative in FY12 due to the dismal conditions of the real estate sector.
Engineering division
The engineering product manufacturing segment manufactures equipments such as forging hammers presses, blowroom lines, production cards for the textile industry, sucker rod pumps for on-shore oil recovery and shot blasting or peening machinery. These products find application in various capital goods companies and its clients include BHEL, Bharat Earth movers, NALCO, Cochin Shipyard, Indian Railways and Hindustan Aeronautics. This segment contributes 18 per cent to the revenue and operating margin is comparatively low at 10 per cent.
Growth drivers
One of the key growth drivers is the abundance of owned land which is free of cost. This makes future projects more attractive as capex will be low and using its own fund will keep debt to a minimum. Currently the Mumbai railway stations are far from Nesco but a new Oshiwara Railway Station is being developed which is expected to be finished by the end of 2013. This new station will not only improve accessibility of the complex, but also boost its real estate and exhibition business.
The management has planned to add 5,50,000 square feet to the exhibition centre in phases, covering a total area of 10 lakh square feet and making it the largest in India. Moreover, Nesco has also indicated the construction of a tower IV to add to the real estate business in the next few years.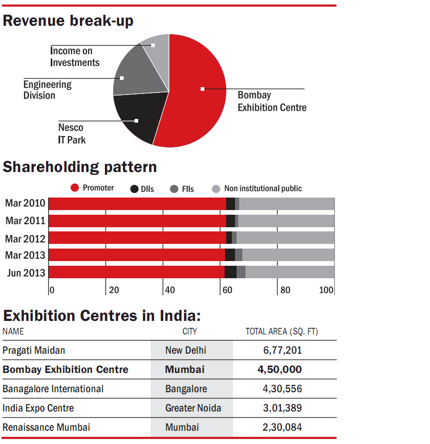 Concerns
With the absence of large open spaces in Mumbai, Nesco can continue to enjoy its monopoly position but a big threat can be the fast developing area of Navi Mumbai. Since the area has abundant space and with Mumbai lacking the same, new companies are preferring Navi Mumbai.
Moreover, even some of the existing companies are shifting or expanding their base to Navi Mumbai as the land is cheaper compared to Mumbai. With the construction of another airport in the Navi Mumbai area, competition for BEC could get tough.
Two of the BEC clients, UBM India and Reed Exhibitions, which are exhibition organisers, generate major chunk of the revenue whereas, any adverse affect on these two companies could impact BEC's revenue.
The company also faces threat from terrorist attacks. This is evident as the company faced such situation in 2009 when the average rent fell due to cancellation of events after the terrorist attack in November 2008.
Financials
Nesco is a debt free company and uses its own funds for capital expenditures. As a result, the company has maintained a high return on investment with 5 year RoI averaging 57 per cent. It has also improved its operating margins over the years from 54 per cent in FY08 to 84 per cent in FY13 and witnessed earnings growth rate of 16 per cent compounded annually. Also, the company's current investments have yielded Rs 19 crore, is close to 7.5 per cent in FY13 up from Rs 11 crore in FY12.
Valuation
Based on its assets, Nesco is a value stock. The current estimated market value of the 70 acre land is more than Rs 3,500 crore and the company has cash and cash equivalent of Rs 255 crore constituting 25 per cent of the market cap. The market cap as on July 17 is Rs 1,023 crore and considering its assets, it translates to enterprise value of just Rs 760 crore.
Using own funds for capital expenditures has resulted in a low dividend yield of 0.48 per cent as a result of the low dividend payout of just 6 per cent. At current price of Rs 726, Nesco has a price to earnings of 12.5, that is trading at a 10 per cent discount to its 5-year median of 14.
The only question that arises now is that how will the value get unlocked for the shareholder in the future.