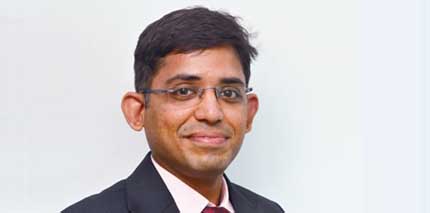 Vinit Sambre, Fund Manager, DSP BlackRock, believes that a 1-year time horizon for stocks provides you the highest amount of visibility for any company. He tells what one should look for in a micro-cap stock.
Could you brief us on your investment philosophy?
As far as the micro-cap fund is concerned, our approach is largely bottom-up stock selection. Whereas in our large-cap funds we follow a mix of both top-down and bottom-up strategy. The small- and mid-cap companies are highly promoter driven and their fortunes are largely dependent on the management strategy. Hence, it is very important to carry out in-depth analysis before investing.
Do you look for anything particular while investing in a micro-cap stock? For instance, a must have variable that makes you want to invest or something which prompts you to avoid investment in a company?
In case of micro-cap stocks, we are positively inclined towards businesses which have a very strong and consistent growth visibility over the foreseeable future, sound management strategy and good corporate governance. As mentioned earlier, since these businesses are mostly promoter driven, it is important that one understands the capability of the management and whether they have the drive to take it forward in the industry or the segment in which they are operating.
Meeting the management is hence quite essential and that is what we follow rigorously. These management meets are one of the most important aspects, especially in the micro-cap space because, that's what gives you the additional confidence. We try to follow this procedure on a regular basis and whenever it is not feasible, we interact with the management over phone calls or conference calls.
There are a few other aspects like the ability of the business to generate free cash flows, dividend payment history and its past 5-10 years financial track record which provides us good insights about the company.
For how long do you generally hold a particular stock?
Normally, we buy stocks with a 1-year time frame in mind. But there are cases when some of the businesses do warrant holding beyond one year and accordingly we keep evaluating the decision on a timely basis. There have been instances where we have exited stocks even before a year due to some reasons. But the point is that we keep evaluating the business on an ongoing basis and investments are made with a 1-year time frame because that's the horizon where you have the highest amount of visibility for any company.
Under what circumstances would you sell a micro-cap stock?
When we make any investment, we also make some assessment of how much the company is likely to grow in the foreseeable future. We evaluate and set a target price for the company and as and when we see the company achieving the target price, we either exit or we hold on if we feel that there can be further decent upside. There are instances when we make investments and are not able to apprehend some of the external factors having negative impact on these companies. So the ideas don't work and whenever there are such periods of underperformance, we take a call to exit the stock and move on to some other companies which are likely to perform better.
How often does an idea go wrong in this small-cap space? What has been the most disappointing and the most rewarding find in the portfolio?
Whenever we take a decision to invest in a particular company or a business, we do so with a particular target price or some time horizon. More often than not what we have observed is that we have gone wrong in predicting the time horizon in some of our underperforming bets. So if one looks at the portfolio, most of calls gone wrong have been in the industrial capital goods space or the power equipment sector where there was a belief that after the reforms, momentum will change but that has not happened.
At the same time, some of our investments have done exceedingly well where the earnings are showing consistent growth in sectors like finance and healthcare and the rewards here have been more than what we anticipated. We continue to own such companies in our portfolio. There are some stocks which have not performed and we continue to hold them with a hope that the outlook will improve soon.
How different is your approach towards mid-caps as compared to micro-cap stocks?
Largely, the investment approach for both these categories remains the same because both of them are similar in many ways. Probably the only major difference seen is that micro-caps, by and large, are more illiquid than any other mid- and small-cap stocks.
What's your outlook on the prospect for the Indian technology stocks?
Indian IT, as of now, is going through a phase of uncertainty because of the US Immigration bill. Within the next 6 months, we should have some clarity on how the bill really shapes up. The effect of the bill can be detrimental for Indian IT companies if it goes through in the same form and fashion. On the other hand, due to improvement in global economic outlook most of the companies are guiding for a better FY14. If there is some dilution in the US Immigration bill, the outlook will be much better than where we are today.
Where do you see the market heading in the second half of 2013? What triggers do you think will drive market performance?
We think that that the two most important factors that needs attention is the interest rates and inflation in our economy. We are of the view that inflation will moderate over time and will give room to the RBI to further cut interest rates, which we believe is a key trigger for the markets to move up. Secondly, the global fall in commodity prices, particularly crude oil and gold, is also a positive trigger. So these are the important things which should support the market.
On the other hand, one would definitely like to see more action on the reforms front from the government if the positive momentum has to sustain. And in light of the elections, that are scheduled next year, it is to be seen how the government acts on that front. We have already seen a run-up as of now but if the reforms momentum continues, we can look forward to breaching the previous highs as far as the markets are concerned.
With a view of lower interest rates ahead, we remain positive on interest rate sensitive sectors such as consumer discretionary and banking while metals as a sector seem to be a clear avoid due to falling commodity price.