Founded by Kochouseph Chittilapilly in 1977, V-Guard Industries started operations by selling voltage stabilisers. This Kerala-based corporate now sells a whole range of products that include stabilisers, UPS, inverters, PVS insulated cables, LT power cables, geysers, solar water heaters and fans among others. In the 36 years of operations, V-Guard has made a mark for itself in the stabiliser market where every third stabiliser in the organised market is sold by it.
The three primary sources of revenue for the company are derived from voltage stabilisers, home wiring and pumps. Together these three divisions bring in 64 per cent of V-Guard's revenues (FY12).
As recently as FY07, around 97 per cent of the company's revenues were derived from the South. Also, its dependence on voltage stabilisers -- which brought in 48 per cent of the company's revenues (FY07), was a risky proposition. But post its IPO in FY08, the company set about to change its strategies, with expansion to new areas being the top priority. And introduction of new categories such as fans, digital UPS and induction tops was aimed at de-risking revenue streams. Today the contribution of South regions is restricted to 78 per cent of revenues (FY12) while stabilisers bring in around 21 per cent of total sales.
Growth drivers
From being a primarily South-based player, V-Guard has started looking at expanding to a more pan Indian presence. Why would V-Guard be interested in non-South regions? That's because in every category that it is present in, whether it be stabiliser, PVC pipes, pumps, solar water heaters or digital UPS, the non-South regions are much bigger markets than the South could ever be.
Extensive expansion of its distribution network in the non-South regions over the past couple of years has helped the company quadruple its revenue contribution from 5 per cent levels in FY08 to 22 per cent in FY12. This geography because of its small base has also been growing faster -- at an annual run rate of 97 per cent in the past 5 years (ending FY12). The management is looking to increase the revenue share of non-South regions to around 35 per cent by FY15.
The strategy that V-Guard has chosen for the non-South regions is to first introduce them to its established product lines -- stabilisers, water heaters, and pumps. In the South where it is already a known name, it brings in new products like UPS, LT cables, fans, solar water heaters, etc.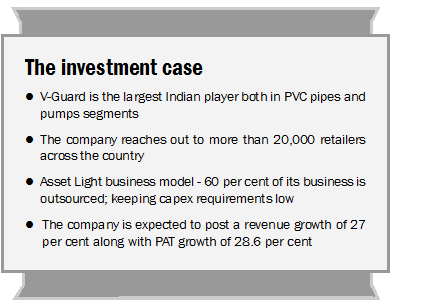 High marketing decibel: V-Guard has chosen a high marketing decibel to capture market share. Among its three primary competitors -- Bajaj Electricals, Crompton Greaves and Havells, V-Guard spends the highest percentage of sales (at around 4 per cent) on advertisement and sales promotion expenses. Not content at current spends, V-Guard has guided that it plans to spend Rs 100 crore on advertisments by FY16.
Getting into shape for the big league: To cater to more customers, V-Guard has expanded its solar water heater capacity from 18,000 units to 90,000 units at its plant in Tamil Nadu at a cost of Rs 7.5 crore. That's not the only expansion on the cards. V-Guard is doubling the capacity of its house wiring and cable factory by FY14 at a cost of Rs 25 crore.
Asset light business model: Around 60 per cent of V-Guard's revenues come from outsourced products. That keeps capex requirements low and enables the company to follow an asset light model. Following this model also helps improve the returns the company generates on various product categories. The stabiliser division for instance, has an RoCE of 106 per cent (FY12), water heater at 51 per cent and pumps at 37 per cent.
Induction cooker -- the place to be: With LPG prices nearly doubling, sales of induction cookers have flared up. V-Guard launched its own range of these cookers this year. While still small in size, induction cookers are estimated to bring sales of around Rs 35 crore in FY13 and expected to grow rapidly at around 87 per cent annually over the next two years (Motilal Oswal projections).
Concerns
Future upscaling depends on success in non-South regions. For V-Guard to get into the national league it has to replicate the success it has managed in the South. A lot depends on this key factor.
* Its cable business (36 per cent of the company's revenues) depends heavily on the price of copper. But with LME Copper prices down 18 per cent in the last one year, this is not one of V-Guard's immediate concerns
* V-Guard also implicitly depends on the growth of the economy to piggyback on. Without growth in the real estate sector, the company's stabilisers, cables and pumps segments may take a hit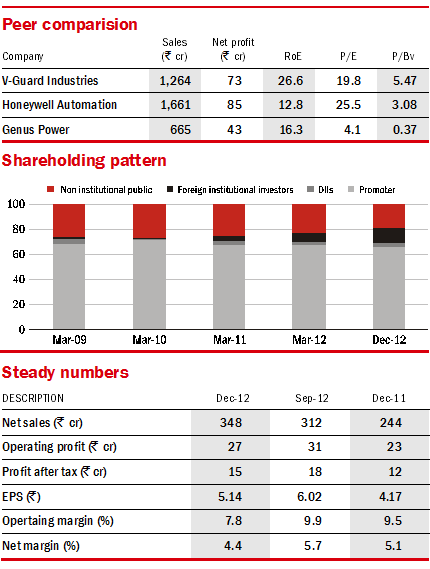 Financials
V-Guard has compounded its sales by 35 per cent annually in the last 5 years. The primary driver of this growth has been strong traction in the stabilisers, PVC insulated cables and pumps. Going forward, newer products like digital UPS and induction tops are expected to provide additional revenues streams as they gain scale. Digital UPS for instance has grown from sales of merely Rs 1.1 crore in FY09 to Rs 73 crore in FY12.
Bottomline has grown by 23 per cent annually in the last 5 years. During this time, ad-spends have grown at a higher 26 per cent annually and could be expected to remain high. According to Niket Shah of Motilal Oswal Securities, the company should be able to post revenue growth of around 27 per cent and PAT growth of 28.6 per cent between FY13-15. This growth is expected to be driven by V-Guard's established product portfolio, a vast distribution network and the company's aim to make a mark for itself in the non-South regions of the country. The contribution of new products should also help in boosting both topline and PAT in the years ahead.
The asset light business model has improved returns on capital that have averaged at 26 per cent during the past 3 years. According to Shah of Motilal, the asset light business model coupled with improvement in working capital should help the company expand its RoCE from 27.3 per cent (FY12) to 39 per cent by FY15, making V-Guard a prime target for re-rating. At the CMP, the stock trades at 19.8 times its trailing twelve month earnings.