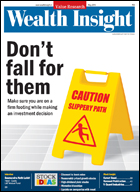 The markets have seen a sell-off since January this year. Barring the Sensex, all other sections of the market have seen stock prices fall off. The BSE Midcap Index saw a decline of 12 per cent while the small-caps were down as much as 18 per cent in the first 4 months of this year. Lower valuations now have resulted in many stocks appearing to be better valued. But do they really offer more value today?
Not necessarily. While there are deserving candidates– high quality businesses trading at decent valuations, we will not be covering them. In the cover story this month, we have looked at companies that appear cheap, that appear to offer value but are quite the opposite. We also show how you can spot such value traps with the help of five early warning signs. The early signs being drastic fall in sales, sharp decline in margins, very low interest coverage ratio, higher level of pledged shares and those factors that cannot be measured and are unique to companies.
To read in detail about stocks impacted by each of these unique factors....
SUBSCRIBE the May 2013 issue of Wealth Insight now.