Established in 1974, Emami is a leading manufacturer of consumer goods and the flagship company of Kolkata-based Emami Group. The company is into manufacturing and marketing of beauty, healthcare and personal care products. It has around 300 products in its portfolio under the brand names of Emami, Himani and Zandu. The fact that the company has been in this business for almost four decades has resulted in a strong and wide network across the country - with five lakh retail outlets and 3,200 distribution channels.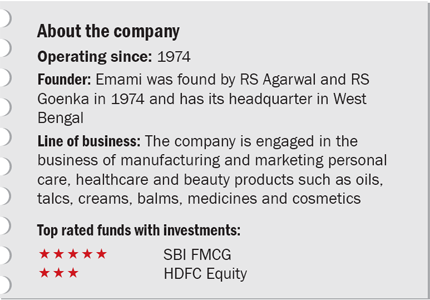 Industry overview
The Indian FMCG market is the fourth-largest sector in the economy with a market size of around Rs 1,80,000 crore and is expected to grow 3.6 times by 2020. Some of the main players are Hindustan Unilever, ITC, P&G, Marico, Dabur, Britannia, Emami, etc. The top-10 companies in the FMCG sector have seen an average growth of around 16-21 per cent in the past 5 years owing to the expansion of distribution networks, percentage of young population and penetration in the rural market. The sector itself has seen a balanced growth irrespective of economic slowdowns.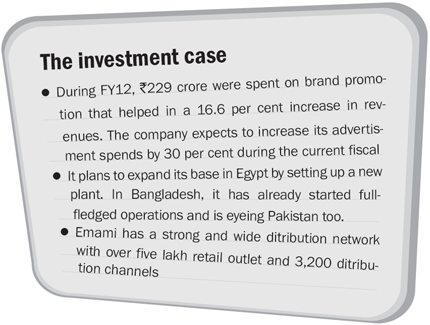 Strengths
A well-diversified portfolio ensures stable growth for the company as no single product contributes more than 20 per cent to revenues. Thrust on Ayurvedic and natural products ensures brand loyalty and the company's top brands enjoy premium positions in the market.
* To increase its presence in the rural segment, the company adopted a new model - hub-and-spoke. By the end of FY12, it had 160 stockists and 4,000 sub-stockists and around 24 per cent of the business was recorded through this model
* Direct retail coverage was increased from 4,50,000 retail outlets in FY11 to 5,00,000 retail outlets in FY12. At the same time, the company's indirect reach has been over 36 lakh retail outlets
* It is also present in over 60 countries; focusing on Russia, South East Asia, Middle East and Africa. Export revenues increased 13 per cent from Rs 165 crore in FY11 to Rs 187 crore in FY12
* Boroplus is the largest selling cream in India, Russia, Ukraine and Nepal - enjoying a market share of 75 per cent. Navratna Oil grew 19 per cent during FY12 and is a market leader in Nepal and Bangladesh with a market share of 54 per cent. Zandu Balm, too, enjoys the status of the largest selling balm in India and recorded a 26 per cent growth in FY12. Fair and Handsome, a fairness cream, occupies leading positions in India, Bangladesh, UAE and Nepal. In FY12, it registered a growth of 35 per cent
Growth drivers
Increased per capita income, urbanisation, increased rural spending and growing young population are some of the factors driving the FMCG sector. Emami has specifically accommodated itself to meet such requirements by innovating new products, faster execution, focus on consumer needs and improved distribution reach.
* During FY12, Rs 229 crore were spent on brand promotion that helped in a 16.6 per cent increase in revenues. Advertising expenses are expected to be up by 30 per cent for the current fiscal
* Emami plans to expand its base in Egypt by setting up a new plant in the country. In Bangladesh, it has already started full-fledged operations while at the same time is eyeing Pakistan's FMCG sector. It will launch its products there soon
* A major chunk of revenues comes from winter products - sales of which are expected to grow at a CAGR of 20 per cent. Even historically, Emami has always had a better second half due to dependence on seasonal products such as winter creams, chywanprash, lip balms, etc. This fiscal the company plans to pay more attention to Zandu brands such as Kesari Jivan, Chywanprash
* Around Rs 50 crore have been earmarked for Greenfield expansion of its personal healthcare production in Assam. In total, around Rs 100-125 crore has been planned for Greenfield and Brownfield expansion plans
Concerns
Intense competition, high crude and commodity prices and rupee depreciation are some of the factors that affect Emami's revenues. Since quite a few of its products are seasonal, sales are often under impact due to any fluctuations in weather.
* Rise in the prices of crude oil and vegetable oils has increased the cost of production
* Steep depreciation of the rupee resulted in forex losses in FY12. For instance, the Kenyan currency depreciation made imports unviable, resulting in reduced business in the country
* During FY12, political unrests in Egypt, Libya, Morocco and Kenya impacted international business and the company had to shut down operations in a few places
Financials
On the back of strong winter sales and strong performance by the company's power brands, Emami reported a net profit of Rs 115 crore for Q3FY13 - a growth of 21 per cent y-o-y compared to last year. Net sales too witnessed a 22 per cent rise in the same period. Growth in the domestic segment was led by Boroplus cream. Domestic rural segment and the international segment both have seen significant growth over the past few quarters. Total revenue and profit have grown at a CAGR of 23 per cent and 31 per cent, respectively. The company has been successful in reducing its debt considerably.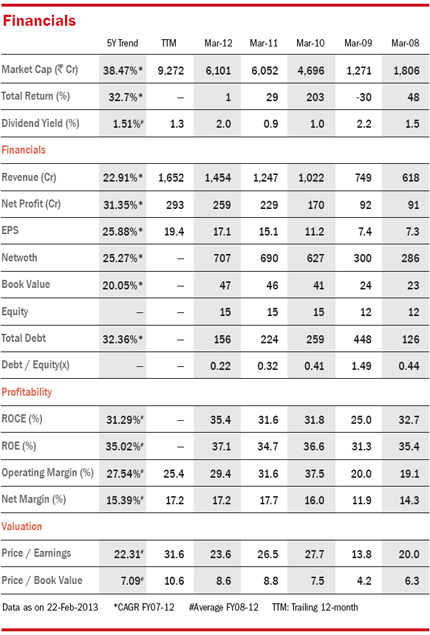 Valuations
Increase in prices to cover input costs ensured a 17 per cent profit margin for the current fiscal whereas the 5-year average stands at 15.39. At the current price of Rs 612, Emami trades at a PE of 31.09 which is 14 per cent premium to its 5-year median PE of 27.54. Price to book value is at 10.67, which is again greater than its 5-year average of 7.63. Although valuations seem a little expensive for now, analysts remain optimist given its strong presence in the niche segment of Ayurveda and natural platform with a significant market share.