Amara Raja is the second-largest battery manufacturer in India with a 28 per cent market share of the OEM and replacement batteries segment. The automotive segment brings in 55 per cent of revenues (FY12) while the telecom and UPS batteries account for the rest. In the nine months ended December 2012, the company managed a topline growth of 27.7 per cent over the same period last year.
The softness in new auto sales is unlikely to affect the replacement vertical at all at least for the next 3 years. The company estimates replacement demand to grow between 15-18 per cent over the next 2 years and is building capacity to cater to that demand. It plans to invest Rs 745 crore in the next 2 years to double its two-wheeler capacity to 8.4 million units and ramp up its four-wheeler capacity.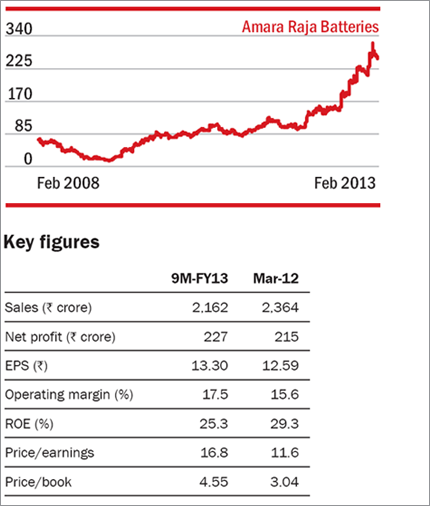 Outlook and valuations. The recent price increase of around 4 per cent should maintain margins at 14-16 per cent if lead prices remain stable. According to Kapil Singh of Nomura Research, "An increase in capex plans highlights increased conviction in volume growth." The stock trades at 16.8 times its TTM earnings.