KEC International is a global infrastructure engineering procurement and construction (EPC) company with presence in six verticals – power transmission; that contributes to majority of its business, power systems, cable, railways, telecom and water management and treatment. KEC is part of the RPG Group and has over 60 years of experience and a presence in 45 countries across South Asia, Middle East, North Africa, Central Asia and the Americas.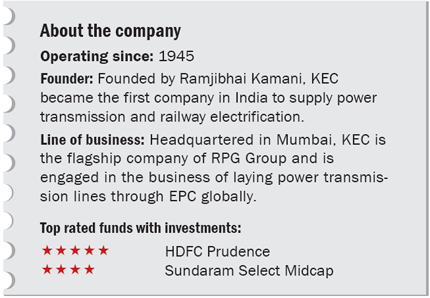 Industry overview
Power Grid Corporation of India (PGCIL) is the only major transmission company that owns inter-state transmission systems in India and has an annual capex of Rs 6,615 crore and plans to double this investment capital every year. In FY13 so far, only 12 companies have been awarded contracts including Larsen & Toubro, Kalpataru Power and Gammon India, with KEC bagging the highest number of orders from PGCIL.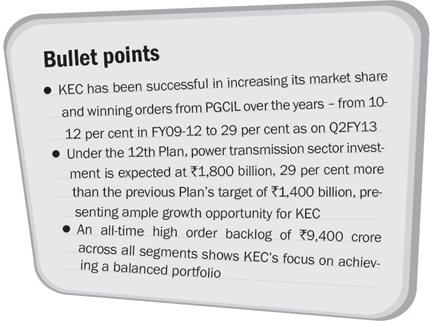 Strengths
Traditionally, KEC has secured most of its business from government sector across the globe. However, in recent years, the company has started focusing on diversifying and expanding its customer base in the private sector. During FY12, KEC received orders worth Rs 1,936 crore from the private sector which was about 23 per cent of the company's order book.
* The company is spreading its wings all across the globe. In 2010, KEC increased its geographical presence in North and South America through the acquisition of SAE Towers Holdings of the US
* Power systems witnessed a 56 per cent rise in its order book from Rs 977 crore in FY10 to Rs 1,533 crore in FY12. Cables segment saw a 141 per cent rise from Rs 60 crore in FY10 to Rs 145 crore in FY12 and railways vertical grew 150 per cent during the 2-year period
* KEC is one of the largest globally operating tower manufacturing companies. Its total manufacturing capacity is 2,74,000 MTs per annum, spread across five locations, three in India and one each in Brazil and Mexico
* The company entered the water management business in 2011 and bagged orders worth Rs 313 crore in the first year itself
Growth drivers
Backed by robust order inflows, KEC has been expanding business through organic and inorganic route and venturing into new verticals. An all-time high order backlog of Rs 9,400 crore across all segments shows KEC's focus on achieving a balanced portfolio with a strong global presence. India now accounts only for 49 per cent of its order book as on Q2FY13.
* In India, under the 12th Plan, power transmission sector investment is expected at Rs 1,800 billion – 29 per cent more than the previous Plan's target. This presents KEC with an ample growth opportunity
* The US is infusing investments to replace its transmission lines that are more than 25 years old. Recently, KEC bagged a Rs 740 crore order from Canada to supply high voltage transmission towers
* Mexico has also set a target of $10 billion for developing its transmission lines. Energy infrastructure remains a priority for Brazil too as it will host the next football world cup and also 2016 Olympics. Both these countries remain top priority for KEC because its subsidiary SAE Towers has 46 per cent and 43 per cent market share in Brazil and Mexico
* By Q2FY13, KEC has won around Rs 350 crore of orders in the railway segment, double its FY12 order intake. The government's proposed capex of Rs 60,000 crore for railways in FY13 is bound to throw tremendous opportunities for KEC
* It has been working hard to expand its cables manufacturing business. A new plant has been set up at Vadodara which can produce 4,000 cable km annually
Concerns
KEC buys various commodities such as zinc, copper, aluminum, steel, etc in bulk quantities and any increase in their price can have a negative impact on its profitability, especially if not hedged on time.
* Over the past 5 quarters, KEC's profitability has been impacted due to pricing pressure and contribution from new businesses, which have had lower margins
* With KEC executing certain projects in potentially-sensitive regions such as Africa, Middle East and Central Asia, any change in regulatory policies or political unrests could delay projects and affect margins
* KEC has high working capital requirements as majority of its domestic clients are government bodies. Any rise in the interest rates could result in higher expenses and lower the company's profitability
* Since transmission projects have long gestation periods, factors such as manpower shortage, natural calamities or lower infra investment due to economic slowdown could impact project execution

Financials
On the back of healthy order book across business segments and geographies, KEC reported a 30 per cent growth in revenues in FY12. The new business segments – power systems, railways, cables, telecom and water – are expected to scale up significantly and are likely to contribute around 32 per cent to the company's revenue in FY13. KEC's order book for Q2FY13 stood at Rs 1,670 crore – a growth of 32 per cent y-o-y. This growth was led by the company's transmission segment which grew at 17 per cent y-o-y at Rs 1,160 crore. During the 5-year period ending FY12, sales revenue grew at a CAGR of 23.31 per cent while net profit grew at a CAGR of 15 per cent. Though KEC's consolidated debt increased in FY11 due to the acquisition of SAE Towers, it has been successful in reducing its debt since then and debt to equity ratio now stands at 1.12 (from 1.5 in FY11).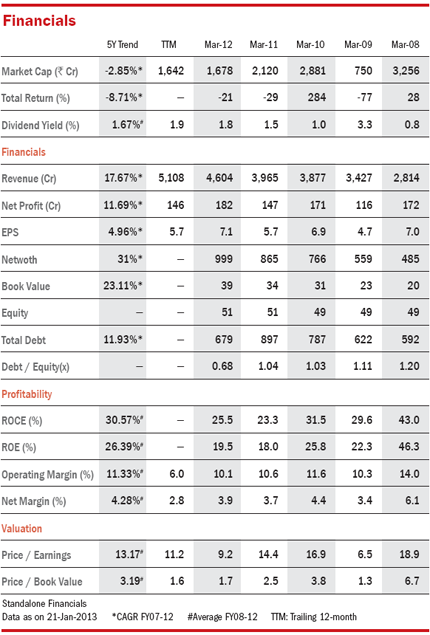 Valuations
At the current price of 67, KEC trades at a PE of 11.6 which is at a 20 per cent discount to its 5-year median PE of 13.9. Price to book value stands at 1.70 which is again less than the 5-year average of 2.66. KEC's low profit margins (an average of 4.54 per cent in past 5 years) have been a point of worry. Despite winning huge orders, profitability has been impacted due to intense pricing pressure, rising input costs and low margins of new business segments . However, KEC should be able to come out of the low profitability scenario owing to its strong execution ability, diversification and a strong global presence.