From revenues of Rs 750 crore in 2002 to Rs 8,126 crore in 2012, Sun Pharma has come a long way. Fighting for Israel-based Taro Pharmaceuticals and winning over its detractors, Sun Pharma today is a poster boy for India's fast rising pharma conglomerates. And it wants more.
Why you should buy Sun Pharma?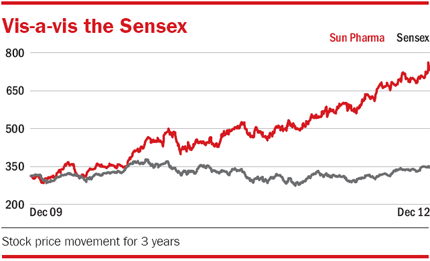 Strong US sales: US sales now bring in 53 per cent of Sun's gross formulations revenues and are on a roll – growing at a robust 66 per cent (y-o-y, Q2FY13). Sun has 136 ANDAs (Abbreviated New Drug Applications) pending approval with the USFDA and expects to file another 25 in FY13. Sun's total ANDA filings stand at 395 including that of its subsidiary Taro; making its portfolio one of the largest among Indian generic players in the US.
Taro, Sun's Israeli subsidiary, leans on the US for more than 85 per cent of its revenues and has an Ebitda margin of 51 per cent (one of the highest in the industry). Taro's core strengths in dermatology has enabled the company to take price increases recently on the back of which revenues (Q2) were up by 16 per cent (y-o-y) and Ebitda was up 33 per cent. Margins are expected to taper down as competition intensifies.
Formidable domestic position: India brings in a third of Sun's formulations revenues. It has a market share of 4.7 per cent in the domestic formulations market. Sun ranks first in six therapy areas of cardiac, ophthalmology, neurology, orthopaedics, psychiatry and gastroenterology. Domestic sales growth at 19 per cent (y-o-y for Q2FY13) is expected to remain strong going forward.
High-margins business: Sun's Ebitda margins at 44 per cent are the highest among domestic players. Sun's strong presence in high-margin lifestyle segments should help the company maintain its current profitability. The company has an estimated $1 billion in cash (Rs 3,367 crore in FY12). This is especially important when pursuing a strategy of acquisitions, enough hints of which have been given in interviews to media.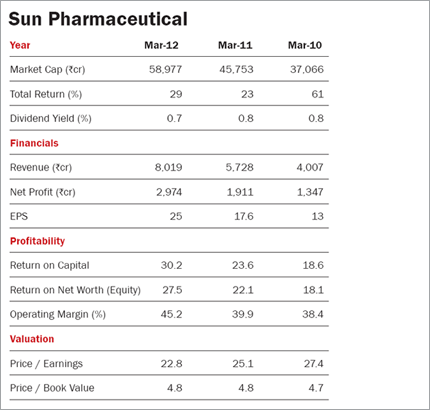 Role of Israel Makov: In May this year, Dilip Shanghvi, the founder-promoter of Sun made a decision that stunned the industry. He stepped down to make way for Makov as chairman of Sun Pharma. This is a game-changer event for Sun especially given what Makov has achieved in his past stint with one of Sun's arch rivals Teva Pharmaceuticals. Under Makov's five years as CEO, Teva's revenues jumped four-fold to $8.5 billion. Net income skyrocketed an even higher six-fold. Teva shareholders during his period at the helm (2002-2007) saw total share price gain of 1,000 percent!
Even half of that performance will gladden the hearts of Sun Pharma's shareholders. Hold for a period not less than five years.