- Did you know that even today there is a minimum six-month waiting period for the iconic Royal Enfield motorcycles?
- Did you know that the Bullet 350 is the longest running motorcycle brand in India being launched here first in 1955?
Eicher has traditionally been known as a heavy commercial vehicle manufacturer. The company though relies on the Royal Enfield motorcycles as much for its earnings. Its tie-up with Volvo in 2008 has been a turning point. It now has the technology to take on the best in its industry.
Why you should buy Eicher?
The Royal Enfield brand alive and kicking: The current demand for Royal Enfield (RE) far outstrips the supply leading to a minimum six month waiting period. According to Chirag Jain of Motilal Oswal, RE will contribute 41 per cent of Eicher's Ebitda this calendar. That share is expected to go up to 44 per cent next year. Also, RE's demand is expected to grow at 25 per cent annually over the next two years.
Building capacity: Enfield's annual capacity is around 60,000 bikes. By outsourcing some of its work, it is actually able to produce 1,20,000 bikes a year; due to which the waiting period often runs upto six months. It is now setting up a new plant in Chennai, to start production in first quarter of 2013, with an annual capacity of 1,50,000 bikes (upgradable to 2,50,000) at a cost of Rs 150 crore.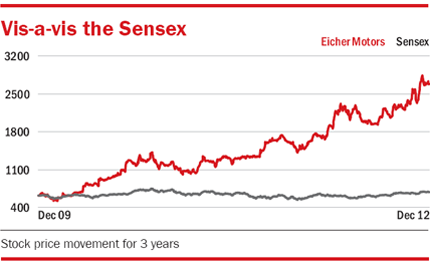 CVs, the road ahead: The partnership between Eicher and Volvo has been advantageous to both. Eicher gains from Volvo's technological expertise while the latter gains from Eicher's deep understanding of the local markets, low cost base and existing relationships with component suppliers. Volvo has chosen Volvo-Eicher Commercial Vehicles (VECV) as its global manufacturing hub for 1,00,000 units of medium duty engines to cater to its global requirements. That puts a lot of business Eicher's way. The JV sold 49,043 vehicles in CY11 - 25 per cent growth in volume. That's around $1 billion in sales (Rs 4,916 crore). Volvo will invest Rs 2,500 crore into the JV by 2013 to make India the company's global manufacturing hub. Eicher is no small fry in the commercial market itself. Its trucks are known for their high fuel-efficiency. In the 5-14 MT segment it has a market share of 30 per cent. The category has grown at 25 per cent annually in the last three years.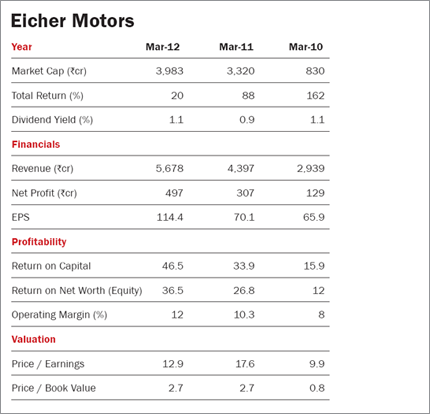 Strong balance sheet. Unlike a number of its peers, Eicher has a strong balance sheet. Debt-equity ratio is at zero. Investments are valued at Rs 512 crore (CY11).
Invest with long-term horizon. The impact of new Chennai plant and Volvo's investments should put Eicher on a smooth run for the next couple of years.