Continued power shortages in large parts of India create a steady demand for Cummins' gensets. The situation does not seem will change anytime soon. Cummins reaps benefits in the meantime. It is one of the very few companies that have managed an average RoCE of 40 per cent during the last three years.
Why you should buy Cummins India?
Continued power shortages create strong demand: South India overall suffers 15 per cent power deficit and North India (11 per cent deficit). It has resulted in demand for Diesel Generator sets spiking to 25 per cent (y-o-y), and will remain robust in medium term.
Dominant market share: Domestic power gensets account for 55 per cent of revenues. Cummins already has more than 50 per cent of the market share in High HP and Medium HP. In the low HP segment, Cummins' share stands at around 13 per cent levels.
High demand improves pricing: Cummins has announced a price hike of 3 per cent effective from January 2013. This is the second increase this financial year, the first hike of (also) 3 per cent was announced in June 2012. To Cummins advantage, these price hikes are coming in at a time when commodity prices are softening. This should positively benefit margins going forward. Already raw material costs have declined from FY12 levels of 64.3 per cent to current levels of 62.5 per cent (Q2FY13). According to Satyam Agarwal of Motilal Oswal, this cost should come down closer to 61 per cent by the fourth quarter of the current financial. Margins as a result of cooling raw material prices, a weak rupee and subsequent price hikes are expected to improve from 18.5 per cent in the beginning of the year to closer to 19 per cent by the last quarter.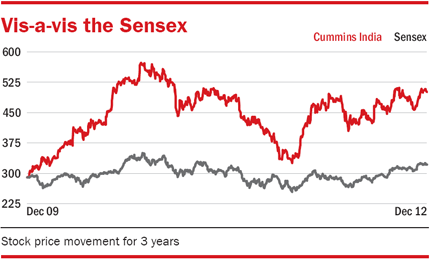 Huge capex programme: Cummins will invest Rs 1,800 crore into capacity expansion over the next five years. This will be financed through internal accruals and/or liquid investments.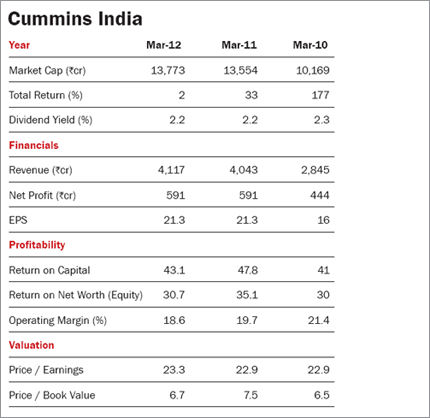 Exports will take time to bounce back: Exports fell 28 per cent (q-o-q in Q2FY13) on account of a sluggish global demand especially in the High HP segment. According to Agarwal, exports could remain weak for the remaining part of the current financial - estimated to fall by 60 per cent (y-o-y) and as well as in FY14 before bouncing back.
Earnings per share on the back of robust demand, a softening commodity price trend and price hikes undertaken by Cummins are expected to see a growth of 20 per cent and 17 per cent in FY13 and FY14 (Motilal estimates).
Cummins trades at 22 times its ttm earnings - that is at a premium at which the BSE capital goods index (PE of 19) trades at. On account of its dominant market position, strong cash flows and high returns on capital, Cummins is a good bet in the capital goods space.