The equity linked savings scheme (ELSS) is a unique category. Funds in this category are classified based on their stated objective and are open to investments only by retail investors and HUFs. A fund qualifies to be an ELSS if it invests more than 65 per cent in equity, has a three-year lock-in on investments and has the necessary approval from the tax authorities to qualify as a tax planning scheme. Investments in this fund qualifies for tax benefits under Section 80C of the Income Tax Act, 1961 according to which, investment up to Rs 1 lakh in this scheme is deductible from taxable income.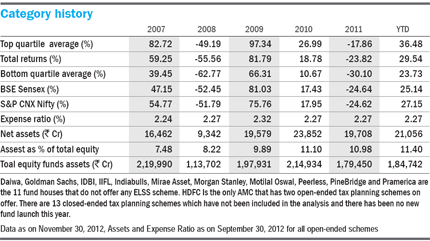 The 37 open-ended tax planning schemes collectively manage Rs 21,056 crore assets as on September 30, 2012 and offer a lot of variety to investors. For instance, there are schemes that are oriented towards large-cap and then there are schemes with a multi-cap tilt. There are schemes that have a tight portfolio such as JM Tax Gain with 21 stocks, which is the lowest in the category. Such diversity leaves investors with the option to pick a fund based on their risk comfort. For fund managers, the three-year investment lock-in reduces the liquidity worries owing to redemption pressures.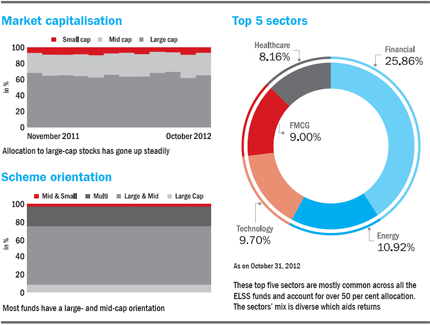 The future of these funds hinges on when the direct tax code (DTC) is implemented, as under the current provisions of the DTC, there is no room for tax benefits from investments in these funds, which will make this category redundant.