With the government expected to come out with a new Drug Price Control Order this month, revenues of top pharma companies are likely to take a hit. Tying up all the loose ends of National Pharmaceutical Pricing Policy 2012, the government intends to fix the price for 348 'life saving' drugs on the basis of a simple average of the current market prices of all drug brands meant for the treatment of a particular disease. The policy is expected to lower the buying cost of several medicines by 50 to 70 per cent, and could also reduce profitability of the industry by around 25 per cent. The initiative also seeks to stop the malpractice of pharma companies selling their drugs at high prices compared to other brands by luring doctors and pharmacists especially in tier II and III cities. However, the new policy, unlike the current cost-based price control mechanism, is also applicable to imported drugs if they fall in the list of essential medicines. The policy also covers drugs which do not have any competition in the market provided they fall in the 'life savings drug' category.
With this, pharma companies will be mandated to come out with new price tags from April 2013. There will be a sharp reduction in prices of medicines such as Omeprazole (Dr Reddy's and Zydus Cadila), Augmentin (Glaxo), Atorvastatin (Zydus Cadila), Folic Acid (Wyeth), Betadine ointment (Win-Medicare), Taxim (Alkem), MT Pill (Cipla). Acute therapies will also witness a higher value erosion of around 13-14 per cent, while the cost of chronic medication will fall by 11 per cent. Among therapies, dermatology medicines will witness the highest reduction of 27 per cent, while anti-infective, cardiac, gastro-intestinal drugs will fall by 12 per cent, gynecology medicines by 13 per cent and vaccines by 10 per cent.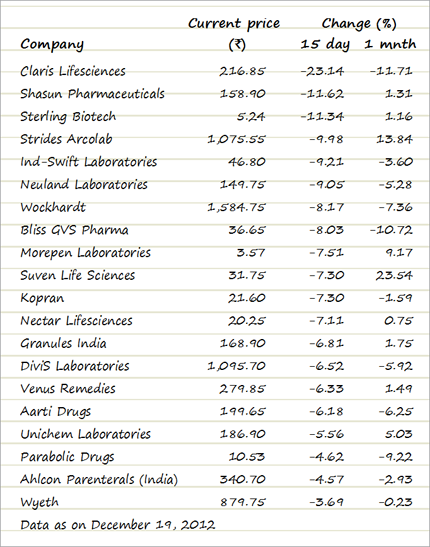 During the last fiscal year, India's pharma exports grew by 23 per cent. Total exports during the past five years have grown by 16 per cent CAGR. The Indian pharmaceutical industry is currently valued at $22 billion and is third-largest in terms of volume and 13th in terms of value. With the introduction of this new policy, pharma companies might lose around Rs 4,000 crore as profits. To make up for the loss these companies would have to increase sales volume. Analysts say it would take atleast another 2-3 years for companies to get back to their usual positions. MNCs like Cipla, GSK, Dr Reddy's, Zydus Cadila, Wyeth and Astra Zeneca will be impacted. But the hardest hit will be mid-rung companies that operate in the domestic space.