In the heady days of 2005-2007, Wockhardt followed what every big Indian corporate did – shop for companies around the world. The company picked up a number of companies in the US and Europe between 2006 and 2007, spending nearly $500 million, which was mostly funded through debt. The decision to leverage and fund the acquisitions through debt started to haunt the company later and threaten its very survival.
The story of Wockhardt is not that it went into corporate debt restructuring (CDR). Many companies go into CDR every year, some count out of it successfully, while some are closed down. Wockhardt's story is different and it is a different entity compared to what it was in 2009-10. Salvaging its strengths, the company has kept its sinking boat afloat, and is even cruising well. Its core operations in the US is doing well and margins are next only to the industry leader Sun Pharma. Wockhardt it appears still has a second chance to get fighting fit once again.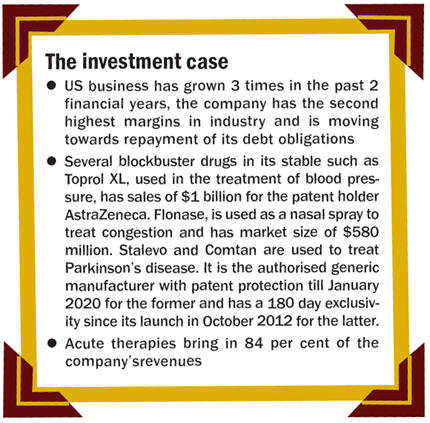 Strengths
It would not be wrong to attribute the turn in fortunes to the US operations. The US business saw revenues nearly treble from $148 million in CY08 to $400 million in FY12. This growth has been largely driven on the success of drugs such as Metoprolol Succinate (Toprol XL), Bromfed DM, Nystatin, Azithromycin, Lisinopril and Tamsulosin among others. Wockhardt ranks among the top-5 Indian pharma companies by revenues in the US today, largely due to the success of these drugs. The US operations now bring 48 per cent of Wockhardt's total sales and is expected to grow by 21 per cent over the next two years. Major growth drivers should come from products like Toprol, Flonase, Comtan and Stalevo some of which have multi-year opportunities with high entry barriers.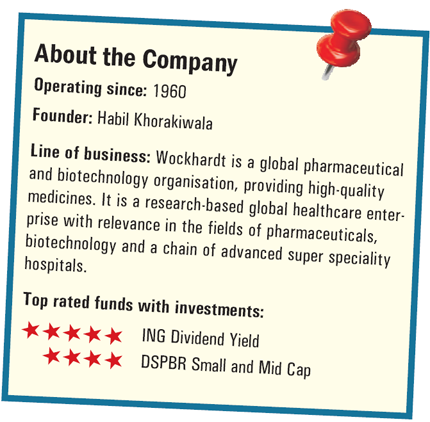 The company has 60 products in the US market. 32 Abbreviated New Drug Application (ANDA) are pending approval with US FDA, of which 10 are First-to-File (FTF) signifying higher quality of product filings. Wockhardt plans to launch 5-10 new products in FY14 or FY15 which will contribute to sales growth. The following are some the key drugs expected to drive earnings for Wockhardt in the coming years.
Toprol XL – a blockbuster drug with sales of $1 billion for the patent holder AstraZeneca, which is used in the treatment of high blood pressure. Wockhardt is already selling this drug and has earned $140 million as topline in FY12. This drug should continue to generate business for Wockhardt. Other players like Cadila and Sandoz are expected to enter the market only by the end of FY13.
Flonase – This low competition product is used as a nasal spray to treat congestion. Market size of $580 million. Wockhardt entered this market in January 2012 and is only the 4th player, seven years after Flonase went generic.
Stalevo – This drug is used to treat Parkinson's disease for which the company is the authorised generic manufacturer with a market size at $58 million, with three players including Wockhardt for which it has patent protection till January 2020.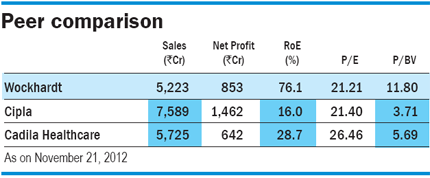 Comtan – Another drug to treat Parkinson's; Wockhardt has FTF and gets 180 day exclusivity since its launch in October 2012 and has a market size at $90 million.
Wockhardt has a robust domestic presence, which brings in around 19 per cent of its total business and has been growing at 13 per cent CAGR over the last two years. It has a strong portfolio in respiratory and anti-diabetic drugs which contribute for 12 per cent and 9 per cent respectively. Wockhardt has also licensed around 20 products in oncology, dermatology and osteoarthritis with innovator companies in the US and Europe and should launch them here in the future. The company is one of the only two Indian firms besides Biocon to have its own insulin in the market under the brand of Wosulin. Though revenue growth is expected at around 12-13 per cent, the sale of its nutrition business, which was 22 per cent of Indian sales, can impact total growth of this segment.
The company has a robust growth margin and has gone on a strict cost control drive. Employee costs declined 8 per cent in FY12. Selling, General & Administrative Expense (SG&A) costs have grown by 0.5 per cent between FY08 and FY12. The company had to divest its non-core businesses during this time and that has further helped cut overheads as current margins stand at 38 per cent second only to industry leader Sun Pharma's 41 per cent.
Wockhardt has had to pay a tough price to get back into shape. It had to let go of its nutrition business and well-known brands of Farex, Protinex, Dexolac and Nusobee to France's Danone for a consideration of Rs 1,280 crore, in July 2012. The company expects to come out of CDR before the end of the current financial. The current net debt stand at Rs 1,230 crore, with the current debt-equity ratio of less than 1 only expected to fall further as the company further pares down debt.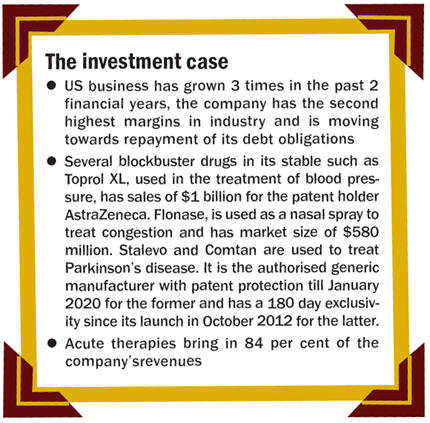 Financials
Wockhardt's strong run is continuing. For Q2FY13, the company reported revenue growth of 29 per cent to Rs 1,347 crore. US business grew by 47 per cent y-o-y, which was 22 per cent in constant currency terms. Net profit jumped 254 per cent (y-o-y) to Rs 453 crore on the back of robust US sales. Ebidta margins for the quarter was up over 10 percentage points to 38 per cent on the back of the high margin US business, a better product mix and gains on currency movements.
However, the India operations was a disappointment in the last quarter (Q2). On account of restructuring of its field force, the company managed a domestic growth of 4 per cent (y-o-y), but the management is not writing off domestic growth just yet. It has guided growth of between 12-15 per cent from local shores in the second half of FY13 in-line with the sector growth rate of 12 per cent. The cash inflows was used by Wockhardt to clean up its balance-sheet. It has written-off goodwill and R&D expenses worth Rs 1,040 crore with the entire goodwill resulting from its French subsidiary, which was valued at Rs 621 crore and R&D costs of Rs 437 crore. These measures should further improve the quality of the balance sheet.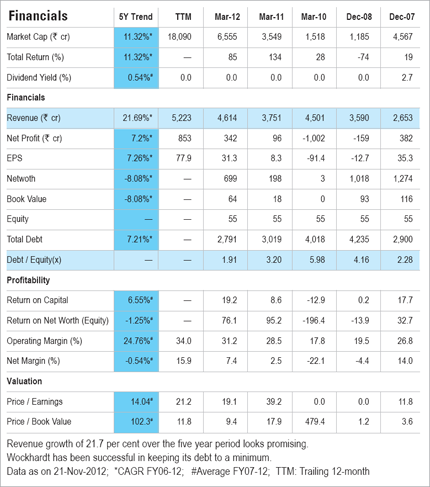 Outlook
Wockhardt's debt situation has been its biggest overhang. According to analysts tracking the company, net debt should drop to zero within the next two years on the back of strong cash flows especially from the US business. Wockhardt's efforts at cleaning up its balance sheet has helped boost investor sentiment. The stock on the back of robust operations is currently trading at close to its 52-week highs. However, analysts tracking the stock are of the view that this may not be the end of the run for Wockhardt just yet. At current prices the stock trades at reasonable valuations of 21 times its trailing twelve months earnings. For a company getting back on its feet, boosted by a strong business momentum and rapidly reducing debt, Wockhardt's story is not yet over.