Petronet LNG is India's largest liquefied natural gas (LNG) importer and has various terminals across the country. It was incorporated in 1998 as a joint venture between Gas Authority of India, Oil and Natural Gas Corporation, Bharat Petroleum and Indian Oil Company with an authorised capital of `1,200 crore. Petronet supplies gas to these four companies, each of which hold a 12.5 per cent equity stake.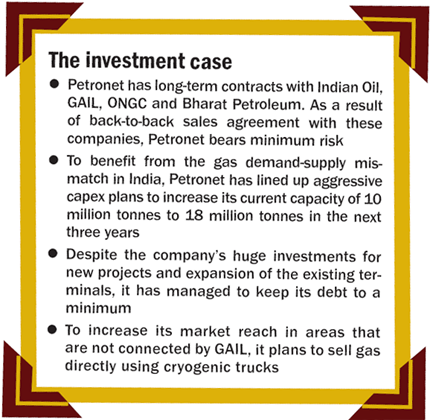 Industry overview
Natural gas is increasingly becoming a major component of the fuel mix in order to meet the global energy requirement. Although in India gas is only around 11 per cent of the primary energy production and consumption, its share is expected to increase significantly to around 20 per cent by 2025. India consumes on an average around 185 mmscmd (million metric standard cubic meter per day) of gas which is expected to rise to 356 mmscmd by 2014-15.
Strengths
Petronet's revenues are sourced from regasification of LNG through long-term contracts and spot deals. With GAIL, ONGC, BP and IOC holding a combined 50 per cent stake, the company bears minimum marketing risk due to back-to-back sales agreements with the promoter group.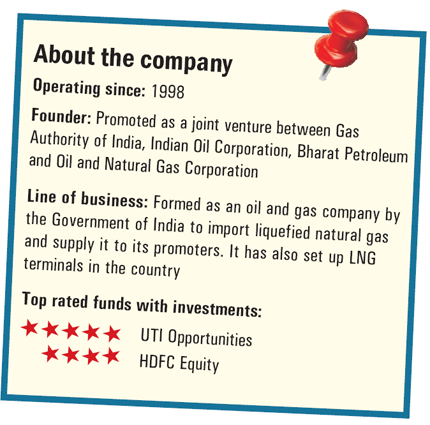 * Petronet is emerging as a key player in India's limited-supply natural gas market. It operates India's first and largest LNG terminal at Dahej and is also exploring options to further leverage the potential of imported LNG in the Indian gas market.
* For the next couple of years, the supply scenario for natural gas on the domestic front does not look good. There has been a significant shortfall in the supply of natural gas in the country especially after the Reliance KG basin failed to meet its targets. The production of gas in the KG basin, originally anticipated at 80 mmscmd, is projected to go down to 27 mmscmd in 2012-13 and further 22 mmscmd in 2013-14. Given the growing energy requirements and the short domestic supplies, dependence on imports is going to accentuate sharply
* Natural gas is prominently converted to liquid form for easy storage and transportation. To reduce its reliance on its promoters, Petronet has planned to sell gas using cryogenic trucks directly to consumers in regions not connected by GAIL India pipelines, to boost profitability and be self reliant
Growth drivers
From just being an importer and re-gasifier of LNG, Petronet is planning to move towards marketing the same. The company has set targets to double its business in the next five years by expanding existing infrastructure and adding new capacities. So, with increasing demand, higher charges and expansion plans, Petronet is on a strong growth path.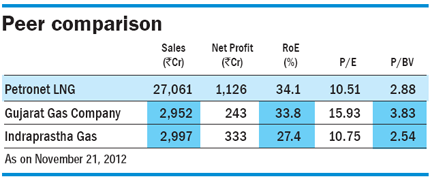 * In order to meet the demand-supply gap of natural gas in India, the company has doubled the capacity of its plant at Dahej from 5 mmtpa to 10 mmtpa and further expects to increase it to 15 mmtpa. It also expects to add another 5 mmtpa to its capacity once the plant in Kochi is completed by Q4FY13. This will expand Petronet's reach and supply in South India. In addition, it has plans to build another terminal at Vishakhapatnam
* Petronet already has a 25-year deal with Qatar's RasGas that supplies natural gas worth $860 million annually. Recently, the company also executed another long-term contract with the ExxonMobil of Australia for supply of around 1.44 mmtpa of LNG to partly meet the requirement of the new terminal at Kochi. It has ties with various other suppliers to import another 1.5 mmtpa of LNG to meet the gas requirement of various refiners and industrial consumers
* To increase the capacity of the country's largest LNG terminal, Petronet is setting up a second jetty at Dahej which will ease the handling of the increasing number of vessels. It plans to set up a 1,200 MW gas-based power plant linked to its Dahej terminal with a total capex of `4,000 crore. Moreover, to ensure efficient supply, the company has entered an agreement with GAIL for pipeline capacity expansion
Concerns
Any new domestic discovery of gas supply in the country can hamper Petronet's sales. Delay in completion of its existing projects can lead to increased costs and any increase in the price of LNG or decrease in the prices of other alternate fuels can have an adverse impact on its growth prospects.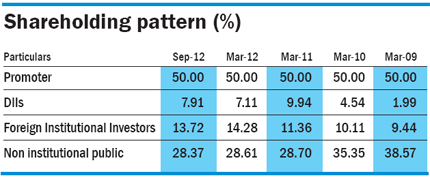 * All the major players in the Indian hydrocarbon business have plans of entering into the natural gas business. Gas discoveries in the KG basin and Mahanadi basin may increase availability of gas in the country and put pressure on the price of gas. Hence, the company can expect competition not only from Indian players, but also from several multinational companies that are targeting the Indian market
* LNG as a fuel competes with coal, oil and similar hydrocarbons. The LNG sourced by Petronet under long-term contracts is currently priced competitively against these fuels. However, a reduction in prices of these fuels or increase in long-term prices of LNG could put pressure on the pricing
* Currently, the company does not produce or market any other product. Its sole activity is import and re-gasification of LNG. Although the company has long-term contracts with international companies and sells its produce mainly to its promoters, there are still certain risks involved with limited customers
Financials
Petronet reported a profit of Rs 315 crore (Q2FY13) which was up 16 per cent on a q-o-q basis. The growth in the profits was on the back of falling spot LNG prices that resulted in higher trading margins on spot volume ($15/mmbtu in Q1FY13 to $11/mmbtu in Q2FY13) and improved re-gasification margins. During the five-year period ending FY12, sales revenue grew at a CAGR of 32.73 per cent whereas net profit grew at a CAGR of 27.55 per cent. Despite the company's huge investments for new projects and expansion of the existing terminals, it has managed to keep its debt to a minimum.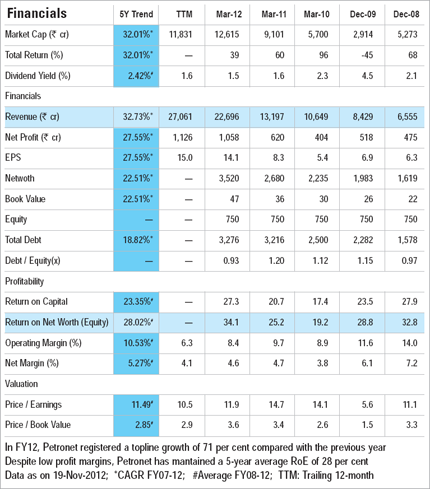 Valuations
At the current price of Rs 158, Petronet trades at a P/E of 10.7 which is less than its five-year median of 11.54. Five-year EPS growth of 27.5 per cent translates into a PEG 0.48. P/B stands at 2.93 which is again less than its five-year median of 3.04. With its expansion plans and construction of new terminals, Petronet LNG looks well prepared to benefit from the falling domestic gas output in the country and the increasing demand from the industrial and power sector.