Small is beautiful is the mantra on which the small-cap bank City Union Bank (CUB) is cruising through tough times. Incorporated as The Kumbakonam Bank Limited in October, 1904. CUB now has a national visibility coming out of just being a regional bank. Now headquartered in Chennai, CUB was started as a local player for the Thanjavur District in Tamil Nadu. With more than a 100-year history, it is one of the oldest private banks in India, which has witnessed several amalgamations. In 1957, the bank took over the Common Wealth Bank and subsequently, two other local banks; The City Forward Bank and The Union Bank in 1965 and was renamed The Kumbakonam City Union Bank. With an intention to operate at the national level, the bank was finally named City Union Bank in 1987. The bank now has around 540 ATMs and 300 branches spread all over India.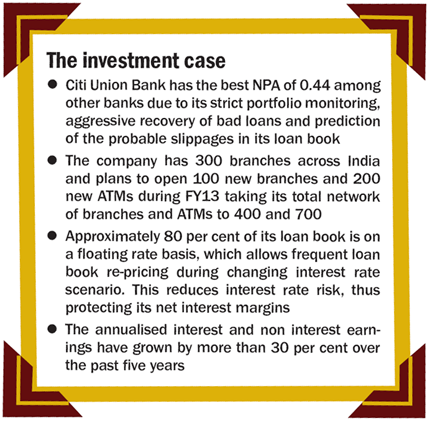 Strengths
Amid the situation of rising NPAs in the banking sector, CUB has managed to reduce its gross NPA by 20 basis points to 1.01 per cent from 1.21 per cent in 2011. Net NPA stands at 0.44 per cent which is amongst the best compared to other banks. CUB has managed to achieve this with its strict portfolio monitoring, aggressive recovery of bad loans and its prediction of the probable slippages in its loan book.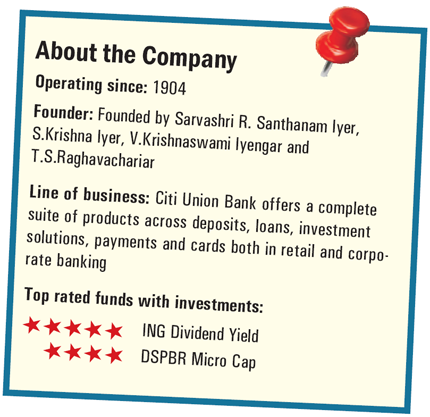 * CUB occupies the topmost position in South India in the bancassurance segment. The bank has partnerships with the Life Insurance Corporation for life insurance distribution. Its other non-interest income has grown exceptionally well by annualised 30 per cent over the past five years
* CUB is one of the earliest bank to transform all its branches into core banking solution (CBS). The bank also offers a complete range of banking products across deposits, loans, investment solutions, payments and cards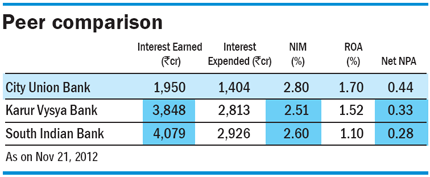 * The bank has pushed down its operational expenses to the tune of 16 per cent of the turnover in FY12 from 22 per cent in FY07. Further, the tier-1 Basel II capital adequacy is well positioned at 12.54 per cent as on September 2012 with healthy provision coverage of 70 per cent
* In the backdrop of several negative factors in the financial sector, including the slowdown of the economy, tightness of liquidity and hardening of interest rates, the bank has performed well by leveraging its branch network and other channels; creating a far and wide reach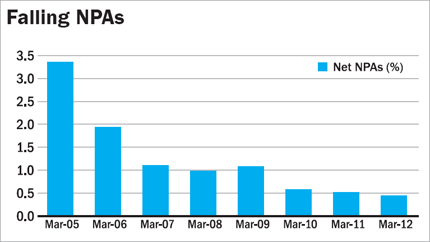 * The investment portfolio of CUB is well balanced with the available for sale (AFS) portfolio forming 7 per cent of the overall investment portfolio in Q1FY13. This insulates CUB from suffering high mark to market losses
Growth drivers
The bank is expanding its networks by opening new branches, especially in areas where banking penetration is very low. Thus, CUB will leverage the opportunity not only by acquiring new businesses and customers in the retail segment, but will also gain access to new source of low cost funds through the current account and saving accounts (CASA).
* The company has 300 branches as on March 2012 with 149 branches in semi-urban and rural areas and 151 branches are in the top metros and urban areas. The bank has plans to open 100 new branches and 200 new ATMs during the current financial year taking its total network of branches and ATMs to 400 and 700, respectively
* Stringent capital and liquidity measures for commercial banks have been prescribed under Basel III which will be implemented in phases between January 2013 and January 2015. CUB is well equipped to cope with these new norms. Responding to the Basel III, the bank has adopted new prudent compensation practices and various institutional mechanisms. Further, tools for monitoring systematic risks have also been put in place
* Approximately 80 per cent of its loan book is on a floating rate basis, which allows frequent loan book re-pricing during changing interest rate scenario. This reduces interest rate risk, thus protecting its net interest margin (NIM)
* Since CUB is a relatively small bank, it has a higher potential to grow


Concerns
Its CASA deposits have grown over the years at a good rate. However, as a per cent of total deposits, CASA has fallen to 18 per cent in FY12 compared to 24 per cent in FY07. Signs of improvement can be seen with rise in CASA by 21 per cent as on September 2012.
The proposed plans of the RBI to issue new banking licenses in the future will increase competition in the banking space. Although delay from the RBI has given a temporary relief to CUB, the bank will face competition in the retail segment where new or existing banks may lure new customers with attractive interest rates on savings accounts, which was de-regularised by RBI in 2011.
The year also witnessed an increasing interest rate scenario on savings and time deposits, resulting in the rise in cost of deposits to 7.33 per cent compared to 6.09 per cent that prevailed in the 2011. The investment to GDP ratio has touched a 7-year low of 29.5 per cent which is also a concern for the whole banking sector.
Financials
The annualised interest and non interest earnings have grown by more than 30 per cent over the past five years. Return on assets has also improved over the years with 1.70 per cent in FY12 compared to an average 1.58 per cent over the past five years. CUB has managed to achieve a balanced growth between deposits and advances with 28 per cent and 29 per cent annualised growth over the past five years respectively.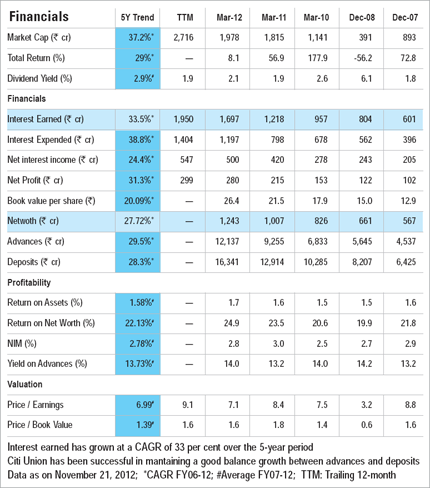 Valuations
Currently the shares is trading at 1.79 times the book value on the bourses which is a 14 per cent premium to its five year average of 1.57. Being a private sector bank the valuations are not too high. CUB has given dividend of `1 per share which translates to a dividend yield of 1.89 at its current price. Holding the long-term perspective; CUB is a good buy for the financial allocation of your portfolio.