Morgan Stanley has announced the categorization of all the existing schemes in the below mentioned' Fund Families' with immediate effect.
Morgan Stanley A.C.E., Growth and Multi Asset Plan A and B shall constitute Fund Family I.
Morgan Stanley Short Term Bond and Active Bond form Fund Family II.
Morgan Stanley Liquid Fund comprises Fund Family III.
The exit load applicability shall be determined as per the following table:-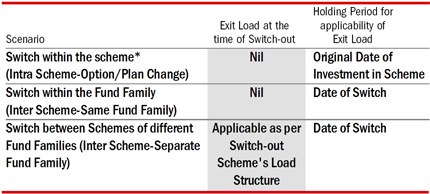 * Irrespective of the applicability of the exit load as per the Fund Families, switch from Existing Plan to Direct Plan within the scheme shall attract exit load as applicable and in cases where the transaction was originally received with the broker code.