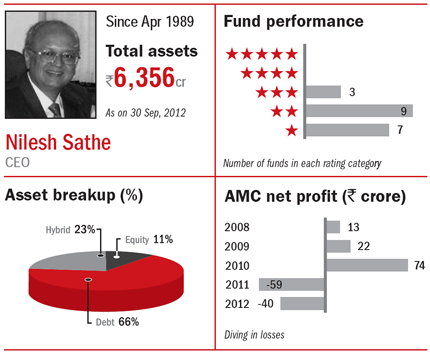 This AMC has very little to stake its claim on despite being in the business since 1989. The huge advantage of the LIC brand name did not result into anything meaningful. The fund house, despite several advantages, could never come over its public sector image to continue struggling with fund performance.
It has a complete portfolio of offerings, with several equity funds, but has nothing to demonstrate in terms of performance or investor interest. Some funds occasionally do well, but even that has not resulted in much investor interest and the AMC has largely remained focused on debt funds.
In July 2009, the AMC entered into a joint-venture partnership with the Japanese Nomura Group which took a 35 per cent stake in the venture. Given the fresh management insight, the AMC has scope to re-orient its operations and restart and get over its forgettable past. The new management has attempted to make this fund house a serious mainstay player. The impact of the foreign partner is visible with the change in the AMC's name to LIC Nomura mutual fund and also the improvement in the performance of some of its fund schemes.