India-based Mcleod Russel, along with its subsidiaries, is into the tea plantation business which involves cultivation, processing and sale of tea. The company has been manufacturing tea since 1869 and is the largest tea producing company in the world.
Originally named as Williamson Magor & Co, it went through several partnerships and mergers until 2004 when it started operating as Mcleod Russel as a separate entity.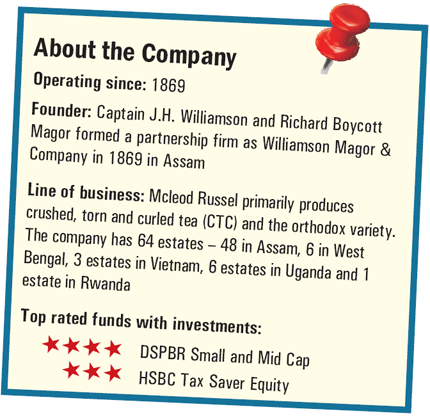 Industry overview
India is the largest black tea producer in the world. In 2011, it produced around 988 million killograms of tea that represented 38 per cent of the global black tea production. Other countries that make the list are Kenya (377 million kg), Sri Lanka (328 million kg), Vietnam (145 million kg), Indonesia (57 million kg) and Bangladesh (59 million kg). Although China tops the ranks amongst the tea producing nations but its focus is mainly on green tea.
Strengths Operating for more than 100 years now, Mcleod Russel accounts for 8 per cent of India's and 2 per cent of the world's tea production. The company had a total production of 80 million kg in FY12.
• Mcleod has been through a number of acquisitions which have helped strengthen its position in the industry. Since 2004, it has acquired 35 high quality plantations in the North Indian belt as well as abroad. In 2008, it acquired 100 per cent stake in Phu Ben Company in Vietnam that has a capacity of 4.5 million kg. In 2010, it took over Rhwenzori Tea Investments in Uganda having a capacity of 15 million kg and the latest acquisition being Gisovu Tea Garden that has a capacity of 1.7 million kg
• The company exports 30 per cent of its production to 22 countries spread across continets and markets the rest within the country
• Mcleod Russel's export of teas from India represents a quarter of Assam's total tea exports that is considered as one of the most respected teas globally. Its estates enjoy a reputation of producing premium quality teas that fetch prices considerably higher than their respective regional average. The company's average realisation for FY12 was Rs 26.97/kg higher than the Assam average and Rs 32.36/kg higher than the North Indian auction average
• On the back of its brand image under the Elephant trademark and credibility of producing high quality tea, more than 98 per cent of the company's revenues are derived from long-term buyers, that ensures revenue stability for the company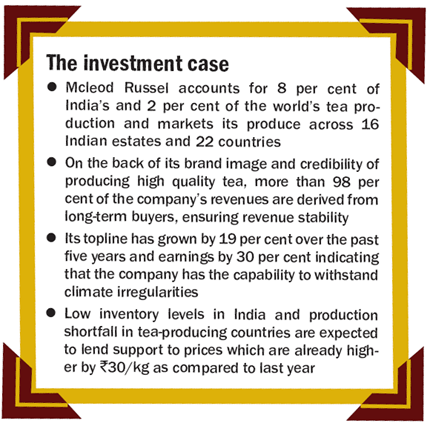 Growth drivers
Domestic tea consumption in India has been increasing and has outpaced the production. While the production has stagnanted over the past 4-5 years, consumption has been growing at a CAGR of more than 2.5 per cent. Being the largest producer and exporter of black tea from India, Mcleod Russel has a huge opportunity to tap this deficit by increasing its capacity.
• Over the past 2-3 years, it has followed the inorganic route and doubled the plantation capacity to 87 million kg in FY12 from 42 million kg in FY05 domestically and has further consolidated its position globally by adding 20.2 million kg. Over the years it has acquired quality fields and enjoys one of the highest realisation and yield per hectare
• Other tea producing nations such as Kenya and Sri Lanka have also witnessed lower production due to adverse weather conditions this year. With carry forward inventory reducing on the back of higher demand and stagnant supply, prices are expected to stay firm and increase further. The tea industry is on the verge of the long-term structural upward trend and Mcleod Russel is the player with significant scale in the industry
• Consolidation initiatives taken by the company in FY11 have enabled it to improve profitability and return ratios to increase its operating cash flows and hence reduce leverage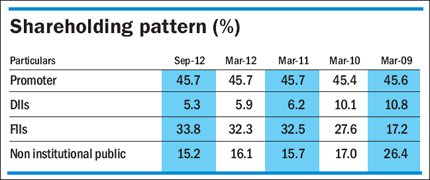 Concerns
The major concerns that Mcleod Russel has to deal with are the need to cope with climatic deviations which lead to production decline, increased cost of production, labour sensitivity and the inconsistent demand since 2010 due to unrests in the Middle East.
• Weather plays a significant role for the industry as production is dependent on climatic conditions and vulnerable to weather changes. As a result of a bad monsoon in the current year, production has been hit immensely. In July 2012, there has been a deficit of around 25 million kg and in September 2012, some districts in Assam reported a loss of 30-35 per cent on a y-o-y basis
• Labour cost plays an important role for integrated tea players and is governed by the Plantation Act and includes high social costs. If the company is forced to make increases in the labour spend, the benefits of the increased prices and cash flows could be negated
• The tea industry is also highly labour intensive and is subject to rigorous labour laws. High labour and social costs, increased infrastructure spend and rising energy and other input costs remain the major problems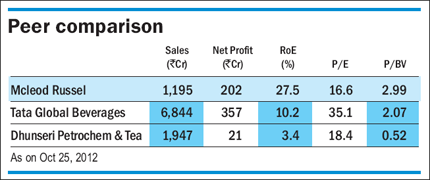 Financials
Despite a number of acquisitions over past few years, Mcleod Russel has successfully managed to reduce its debt from Rs 457 crore in FY08 to Rs 166 crore in FY12. Debt to equity stands at 0.14 as on March 2012. Revenues have grown around 19 per cent and net profit growth stands close to 30 per cent over a period of five years. Sales for the June quarter stood at Rs 146 crore compared to Rs 148 crore the previous year, indicating that the company was not affected despite poor weather conditions this year. RoE has clocked a CAGR of 22.24 per cent. Until 2009, 100 per cent of the company's tea produce came from India; it has increased its revenue through its non-Indian acquisitions and has kept its profit margin above 20 per cent since then.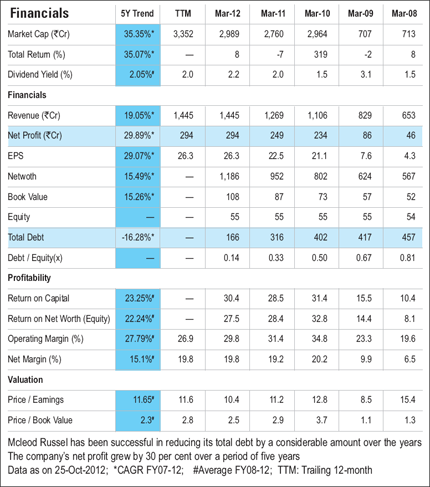 Valuations
The industry expects a shortfall of 25 million kg in the current year. Considering the cumulative deficit and consumption, there could be a shortfall of 150 million kg in the next season which the market is not aware of. At these levels, the market will have to start rising. Although, Mcleod Russel is trading at a price (Rs 307) which is 11 per cent less than its 52-week high, its P/E of 11.7 (TTM) is a little expensive than the industry P/E of 10.71. Tea prices in India are already up by Rs 30 as compared to last year and are expected to go up when supply falls short of demand, giving Mcleod Russel the significant pricing power.