Grindwell Norton (GNO), was originally promoted by two Parsi entrepreneurs in the early 1940s and later became part of the collaboration of Grindwell and US-based Norton Company in 1971. Again in 1990, Saint-Gobain acquired Norton Company worldwide, and six years later, GNO became the subsidiary of Saint-Gobain in India. Headquartered in Mumbai, GNO is a manufacturer of abrasives, silicon carbide, refractories and plastics products.
Grindwell Norton derives over 70 per cent of its revenues from sale of abrasives.The company has six manufacturing locations in Mumbai, Nagpur, Bangalore, Tirupati, Himachal Pradesh and Bhutan and 11 sales offices across the country. The Himachal Pradesh Abrasives site and Saint-Gobain Ceramic Materials Bhutan – a joint venture partnership with a local partner in Bhutan are two recent projects which have been undertaken to strengthen the group's presence in India.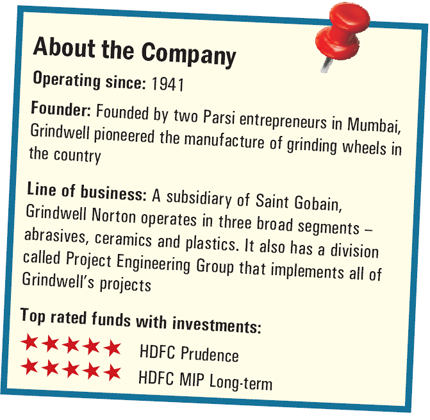 Industry Overview
Abrasives are industrial consumables, which find application in material removal, polishing and finishing. End-user industries include metals, auto, construction, fabrication and various machining industries. In the past couple of years, the industry has grown in the range of 10-12 per cent. There are very limited players in the industry. The listed entities include Carborundum Universal, Orient Abrasives and Wendt but GNO and Carborundum Universal together account for 70 per cent of the total market share, thus making it a more of a duopoly market.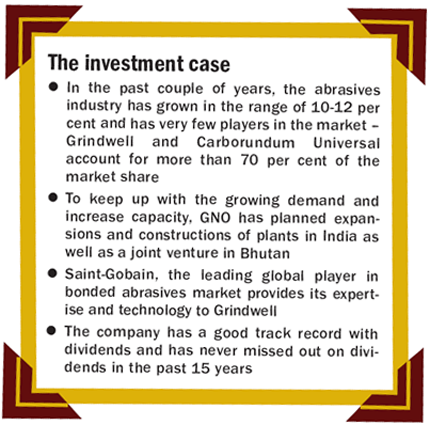 Strengths
GNO is the oldest player in the Indian market which made the first grinding wheel in India. The company also derives its strength from its parent company Saint-Gobain. Saint-Gobain is the leading global player in bonded abrasives market which in turn surpasses its expertise and sophisticated technology to GNO. Saint-Gobain has a very strong research and development (R&D) set up in USA where all the basic and applied research takes place. GNO has access to all the research and technology developments.
• GNO has positioned itself very strongly in the local market – enjoying the status of a duopolistic and thus has significant pricing power. Amid the rising raw material the company has been able to maintain its margin by escalating the prices of its products over the years
• The company enjoys cost-advantage because of its backward integration into silicon carbide, a key raw material for abrasives that gives GNO an edge over the others. It also markets silicon carbide and is the market leader in this segment
• It has a division called The Project Engineering Group (PEG). PEG was established in the early 70s, primarily for executing large scale complex projects such as setting up plants and in-house equipments. It works for GNO and other Saint-Gobain group companies in India and abroad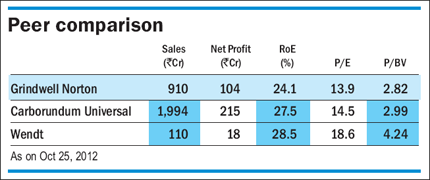 Growth Drivers
The company is financially strong and is able generate enough cash from operations that it can spend as capital expenditure for capacity built-up and growth plans.
• Refactories segment was operating at around 190 per cent capacity utilisation. To keep up with the growing demand a new plant has been constructed near Vadodara in Gujarat which is expected to be commissioned this financial year only
• Two projects – first, the expansion of Bonded Abrasives capacity at Nagpur and second, a new non-woven abrasives plant in Bangalore is also expected to be operational this year. These two projects will considerably add to the capacity
• GNO's ceramics and plastics segment which produces silicon carbide and high performance refractories has witnessed a healthy growth due to the metallurgy and construction industries. Both the industries have a positive outlook in India and will continue to grow in the long-term
• A new facility Saint-Gobain Ceramic Materials Bhutan (SGCMBPL) located in Bhutan was completed last year as a joint venture with the Singhye Group of Bhutan. This will exploit the industrial needs of Bhutan
Concerns
GNO's product is dependent on industrial usage and therefore, a gloomy market like now might put its topline under pressure in the coming years. Although the company has increased the price in the past years to fight with the current outlook but this may not be a sustainable approach for the next couple of years. The sales volume was flat during last year and the growth in sales was primarily due to hike in prices.
• Exports have remained flat mainly due to the global slowdown and if the situation does not recover soon, one can expect exports to fall further
• In the coming years, GNO can face pricing pressure because of small players that cater to specific low-end products, precision tools offered by players from Europe through local marketing networks as well as Chinese imports
• Escalation in the prices of fuel and power and international prices of calcined alumina and brown-fused alumina, which are key inputs for the industrial ceramics and abrasives business, are the major concerns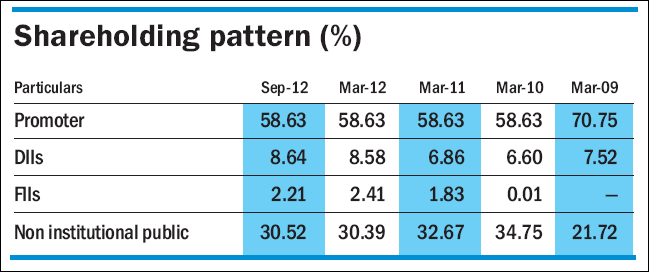 Financials
GNO has shown a consistent growth in its revenues at a 20 per cent rate annualised over the past five years. Return on capital averages to 35 per cent over the five-year period (ignoring the exceptional income in FY07). Free cash flow for FY12 of Rs 5.62 crore, quite less than Rs 52.58 crore in FY11, is not a concern because the cash outflow from the investing activities rose from Rs 25.45 crore to Rs 96.33 crore on account of capital expenditure of Rs 100 crore. The consolidated cash flow per share has also risen to Rs 21.44 per share from the previous Rs 15 per share. GNO also has a good track record of dividend and has never missed dividends in the past 15 years.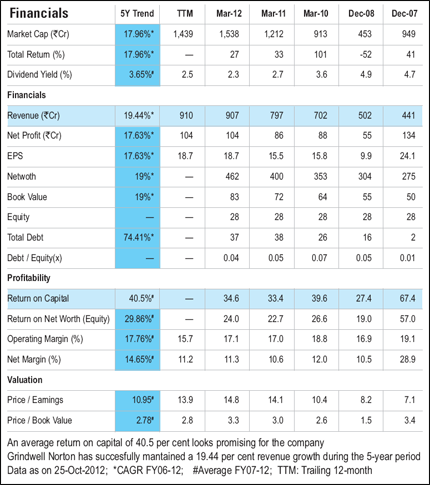 Valuations
Currently the stock is trading at an earnings multiple of 14 which is slightly higher by 4 per cent to its five-year median earnings multiple of 13.4. At earning growth rate of 18 per cent, the price earning to growth translate to 0.79 which makes it relatively cheap if GNO maintains its growth rate in the long-term. The company declared a dividend of Rs 6.5 per share which gives a dividend yield of 2.5 per cent. GNO is a stable stock and is a good buy for long-term conservative investors.