I am 80 and have around 40-45 lakh invested in stocks. I manage my portfolio on my own do my research by reading business magazines and other media reports. Considering my age, please have a look at my portfolio and suggest changes.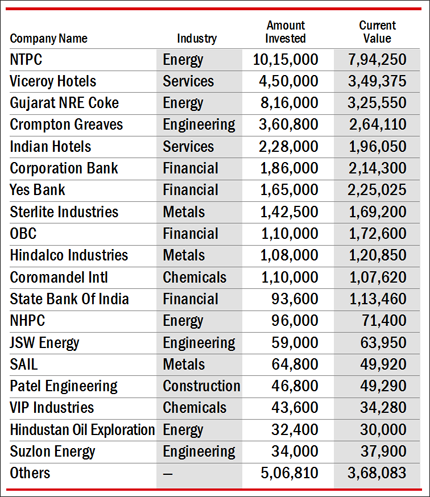 A haphazard approach: The portfolio does not have a theme or an objective. It has been built by simply adding up stocks. The stock selection is not an issue here but the proportion of stocks to the total portfolio is the problem. To cite an example, NTPC is about 21.14 per cent of the portfolio which does not serve the purpose of diversification even though there are so many stocks. A greater weightage can be given to a company whose dynamics you understand and are confident about its fundamental strength and growth drivers.
If the stock has been selected on the basis of strength but growth looks uncertain, then give it lesser weightage in your portfolio.
Industry diversification: Majority of the stocks are from the energy sector which contributes 34.73 per cent to the portfolio at current valuations. You should bring it down since it is a volatile sector which may hamper the performance of the portfolio.
Since you have a portfolio which involves a fairly large sum so as an passive investor you may take the industry weightage guidance from Indices like Sensex or Nifty. For example, Sensex has energy weightage of around 17 per cent.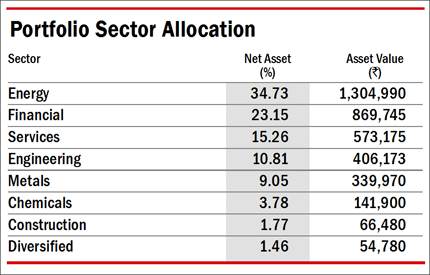 Top concentration and long tail: The portfolio is concentrated with top-10 companies covering about 75 per cent of the portfolio. Also, the portfolio has too many companies that have insignificant weightage. This means the growth from the tailing companies cannot be leveraged in the portfolio.
Cap selection: How much should be in large-cap, mid-cap and small-cap companies depends on three factors: investor's risk appetite, investment objective and age. If one has a lower risk appetite then the investor should be more into large-cap and very little in small- and mid-cap. If the investment horizon is very long then one can afford more of small- and mid-cap. Similarly, higher the age, more the investments into larg-cap.
Considering all the points, we advise that your portfolio should have 70 per cent weightage to large-caps, 20-25 per cent to mid-caps and rest to small-caps. You should also consider selling the fundamentally-weak companies and invest more in large-cap companies.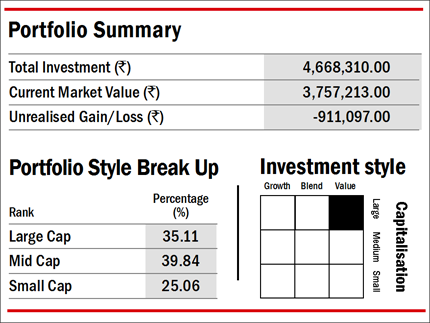 Passive investment approach:If you would have invested in Sensex companies then the worth could have been double of the current value. So the other aspect (other than what we just suggested) can be that we will advice you to liquidate and invest most of your money in good diversified index funds. Rest you can invest in the moat companies which appear in our Stock Ideas section.