Opportunity funds hunt for gains by either select stock picking or investments in select sectors. It is for this reason that in such funds the role of the fund manager assumes greater importance, for their ability to spot winning stocks and sectors that can pay out handsomely over time. Bhupinder Sethi, fund manager, Tata Equity Opportunities says, "This is a broad-based category and it does not limit us to choose from a particular sector or a stock. Performance can be attributed to stock picking, like we did not take exposure to PSUs, which helped us a lot."
However, the 19 funds that are trying to find opportunities have been less successful with their bets over the past three years compared to the broad market indicators. The reason for their underperformance is a combination of the poor state of markets in recent years as well as the fund managers' bets not turning out the way as anticipated. "We have a bottom-up approach for this scheme, and increased exposure to pharma sector and certain private sector banks aided our better performance in the past one year," adds Sethi. While Pankaj Gupta, fund manager of L&T Opportunities, says "Being underweight on some stocks with valuations not in line with our assessment resulted in better performance."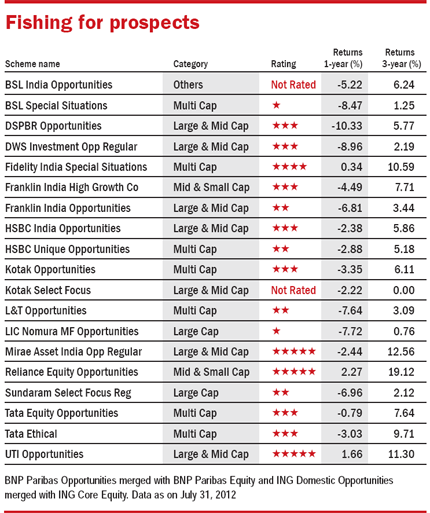 Also, one should keep in mind that not all opportunity funds are homogenous by stated objective or character. It is for this reason that funds seeking opportunities fall within different categories based on the Value Research fund classification. There are funds that mostly seek opportunities in the large- and mid-cap space, go across capitalisation in the multi-cap space and also within the mid- and small-cap space to boost returns. Take, for instance, BSL India Opportunities: the scheme fishes for opportunities in the field of global outsourcing. This would include sectors such as IT, telecom, pharmaceuticals, biotechnology, auto ancillaries, textiles, among others. In comparison, UTI Opportunities seeks opportunities arising in the market by responding to the dynamically-changing Indian economy by moving its investments amongst different sectors as prevailing trends change.
"Stock picking, coupled with diversification within sectors such as pharma and banks, has worked for us," says Neelesh Surana, co-fund manager, Mirae Asset India Opportunities Regular. This large- and mid-cap fund did better than its peers, with investments in cash generating companies and exposure to the consumption sector. For investors looking for investments in such funds, the risk lies in the dynamic stock picking ability of the fund manager, and quick changes across market capitalisation to emerge as a winner over different market cycles.